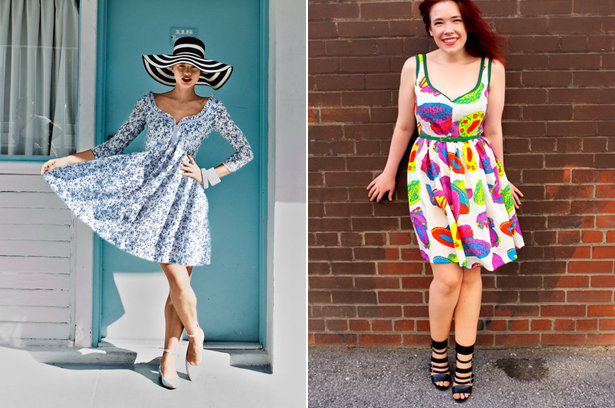 ShareThis
This is the first month that I actually felt the heat of the summer, and all I wanted to wear was summer dresses. So this month I decided to Mash Up a sweet dress for myself to wear on those hot summer days. There were many lovely dresses from the May issue and it was a back and fourth between our portrait mini dress and the sweetheart neckline dress… but ultimately I went with the sweetheart dress from our Cabana Cutie pattern collection, and I sure felt like a cabana cutie when this dress was done!
As soon as I saw this colorful sombrero printed fabric I knew I had to have it and make a full skirt or dress in it. So when I finally decided I wanted to make the Sweetheart Neckline Dress I knew this fabric was a perfect match! The pattern has a trim to accentuate the sweetheart neckline so I dug through my trim box and found this evergreen elastic lace-like trim that matched the fabric perfectly.
Since I wanted to make this dress for warm weather I knew right away I wanted to omit the sleeves in the dress, so all the physical pattern pieces I needed from this PDF were pieces 1, 2 & 3. The skirt of this dress is just a large rectangle (to be gathered in) so I referred to the instructions and measured on my fabric the widths of the skirt edges and teared my fabric. I usually sew a size 38 in BurdaStyle patterns, but for this dress I made it in a 40 because my fabric had no stretch.
The assembly of this dress was pretty simple, and like any other pattern I usually start with the darts. After the stitched the darts in the back and front pieces I sewed the princess seams of the front and the center front seam. Next I sewed the angled shoulder seam together.
Before I stitched the side seams together I gathered both skirt pieces and sewed them into the front and back bodices along the waistline. This dress has a side seam invisible zipper which I always love, so I inserted it before I sewed the rest of the left side seam. Now it was time to start sewing on the trim! Before I sewed the trim on I overlocked the edges of my armhole and neckline so they wouldn't fray.
I sewed my trim on working from the right side of the fabric and stretched the trim slightly because it was elastic and I wanted to gather in the edges a bit so they wouldn't roll outwards. I stitched into place with a zig zag and a stretch stitch to make sure that the serged edge wouldn't show if the trim slightly flipped upwards.
Once I sewed the trim on the dress was basically done! I pressed up the hem 1" and stitched into place with the same metallic thread I used to sew the trim down. I also hand stitched a hook and eye to close the gap above the zipper pull of my side seam invisible zipper.
My dress is so fun to wear and here I paired it with a matching green belt and some nice strappy black shoes (that I just bought last weekend). This dress is perfect for summer festivities and I know every time I pull it on it will also put a smile on my face. See more projects pictures here.
Happy Sewing, and also stay tuned in July when I post about the pattern I am going to sew for my next Mash Up so you can sew along and send me pictures that I can share in my next post!
Meg Healy is BurdaStyle.com's Online Editor and eCommerce Manager. She has an education in fashion design and earned several awards for her technical skills in pattern making and sewing.