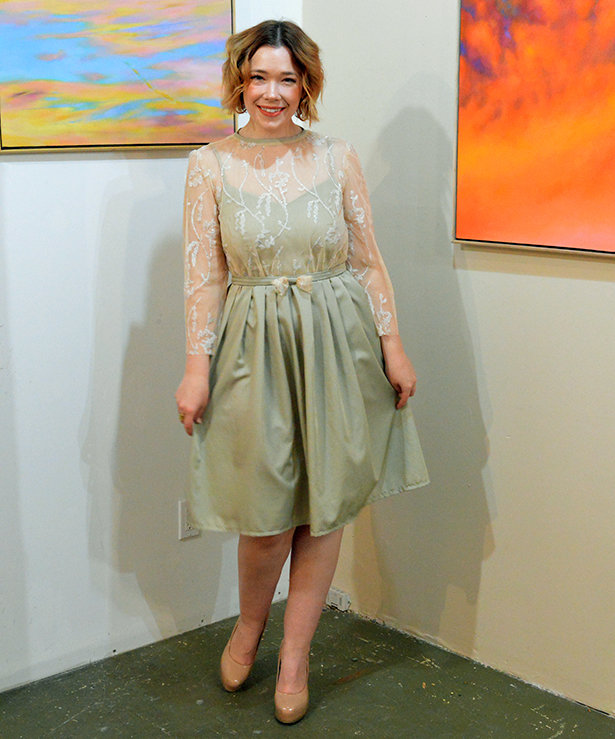 ShareThis
Happy New Year everyone! Can't believe it is 2019 already, seems like I was just getting used to writing 2018 down on paper – but alas here we are and here is my last Mash Up reveal of 2018. This past year was a crazy sewing year with filming several sew-alongs and even a new course in addition to Mash Ups and my Burda Challenge 2018 projects. But I'm so happy with how I ended the year and even happier with how my Overlay Dress turned out. Read on to see my last steps in sewing this dress in addition to more photos and links to all my tutorial posts!

I ended last week pretty much completing my dress, but after I tried it on I felt like it needed just something extra. Sususews commented on my Part 1 post about using my extra fabric to make a belt, and that's exactly what I did!
My belt was about a finished width of 1 1/4" so I fused interfacing to a piece of my green silk fabric double that width plus seam allowances and then stitched right sides together and turned to the right side.



Then with the leftover nude beaded mesh I decided to make a little bow to attach to the center front of the belt. I simply cut a piece of the mesh about 6" wide and sewed the ends together and flipped right side out. Then I wrapped a small piece of the green silk around the center and hand stitched in place. To make the bow more my desired size, I trimmed the edges until I was happy.



With some more hand stitches I attached the bow to the center front of my belt.



On the back of my belt I finished both edges and then hand sewed on a large snap fastener.



Ta da! I love the bow belt with my finished dress – just that something extra it needed.



Special thanks to Joseph Flasko who let me pose in front of his wonderful artwork!



This dress is really fun to wear. The fit is great, and again I cut and sewed a size 38. I'm so glad I decided to not sew the skirt overlay and just do the bodice as it gives the dress a delicate look.



Because the dress had a lot going on with the beads and the bow belt I wanted to style it with minimal accessories. I wore my favorite nude pumps and a new pair of crystal hoops earrings I got over the holidays.



For my December Burda Challenge plans I wanted to make a faux fur little vest, and once it was finished I thought it would also look lovely over this dress! For the vest I used this pattern and this teal faux fur from Shannon Fabrics. The teal and the sea-foam green compliment each other very well, and there is even a teal bead on the nude mesh which tied it in nicely too.
If you want to recreate a similar dress yourself, click the images below to go to each tutorial post:



Well that brings all my 2018 Mash Ups to an end, it was a fabulous year! Now I'm browsing through all the 01/2019 pattern trying to decide what to sew first in 2019, any suggestions? My goal this year (as I said in Sew & Tell episode 4) is to have all my 2019 Mash Ups work together to create a capsule collection. So using similar fabrics and colors to build garments that will all work together.
Happy Sewing!