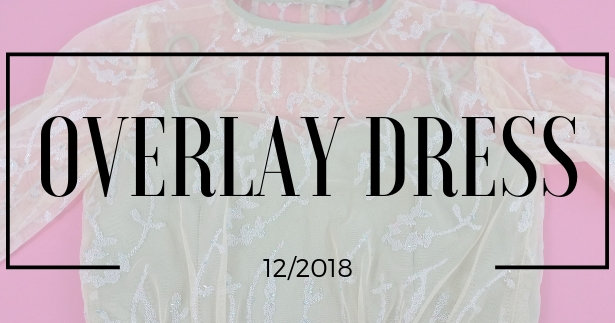 ShareThis
In part 3 I finally get to work on the skirt portion of my dress! I'm so glad I went with the decision to omit the overlay for the skirt and use the green, it just compliments the top of the dress so well. Almost done with this one, and what a Mash Up to end 2018 with. Can't wait to wear it!
I hope you all had a wonderful holiday – I'm just now getting back into blogging and sewing with ton's of new sewing resolutions. And speaking of resolutions, the latest Sew & Tell episode just came out today and features my Mash Up plan for 2019!

So last week I ended with basting my gathered overlay to my bodice, and here I show it also stitching up the center back.



I flipped up to reveal both the under and overlay together and wow I love it!!



View from the side.



To finish off the back slit I clipped into the center back slit notch just above the end of my under bodice.



I then pinned my allowances to the wrong side.



Working from the right side, I topstitched my allowance in place from the bodice edge all the way to the top of the neckline strip.



Now it was time for the skirt! First on the front skirt I pinned all my pleats according to the directional arrows and basted them in place.



I also pinned and basted all my back pleats in place.



Before I stitched the side seams of my skirt I serge-finished the edges.



I then stitched my skirt side seams together and pressed my seam allowances open. I also serge-finished my center back edges as well as my entire waistline edge.



In addition to the pleats this skirt also has gathers! So I stitched two rows of basting stitches leaving long bobbin thread tails.



When I gather a piece into another I also like to pin all the "land marks" first to get an even gather. So I pinned the side seams, and both centers of my skirt to my bodice.



Then pulled my gathering threads until my skirt matching my bodice waistline.



I flipped down my skirt to reveal my dress so far, again I'm in love!



Now it was zipper time. I first pressed my zipper so the coils would lay away from my zipper tape, and then I pinned my zipper right sides together with my back skirt with the zipper stop at the top matching exactly to the bottom of my slit.



Using my invisible zipper foot I stitched the zipper to my back dress.



Once one of my zipper sides was attached, I pinned my other zipper tape to my back dress.



While my zipper is pinned I always do a test zip to see if any seams are matching perfectly.



I also made sure my zipper stop was at the exact same top right at the bottom of the slit.



Again using my invisible zipper foot, I sewed the other zipper in place. Ta da! Love a good invisible zipper that matches.



The back is looking so good too!



To close off the bottom of my invisible zipper I always switch to a piping foot to get really close to both my zipper seams. Then I stitched together the rest of my center back seam to the hemline.



For my underlay bodice straps I pinned JUST to the facing and tried on to get the correct length.



Then I stitched in place again only on the facing and very close to my seam.



Nice and neat strap without topstitching!



For the hem I just serge-finished the bottom edge and pinned up my hem allowance width and stitched into place.



To secure the top of my slit I first hand stitching a decorative button on one side.



Then using an elastic I made a little loop and stitched into place.



My finished back slit!
Next week I'll debut my finished dress and even demonstrate how I finished it off with a self-made matching belt.
Happy Holidays and Sewing!