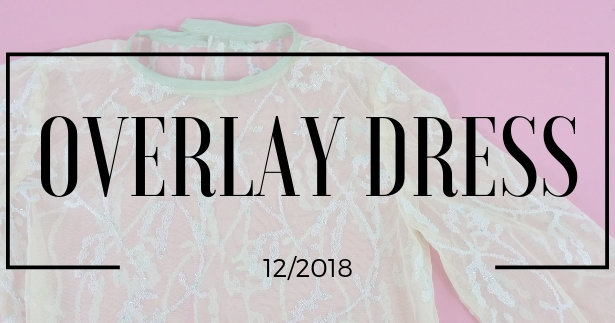 ShareThis
This week I'm focussing on sewing the outer embellished layer of my Dress with Sheer Overlay. I learned very quickly I had to sew very slowly over the beaded parts, but I love how it is all coming together and I can't wait to wear it on NYE.
Last week I started sewing my dress using our Dress with Sheer Overlay and finished up with completing the under bodice with straps. This pattern is great so far, and I love the illusion neckline. I cut my usual size 38!

Now that my under bodice was pretty much sewed, I needed to start on my overlay. For first I pinned the shoulder seams, right sides together.



For these seams I really took my time and sewed slowly over the beaded parts. But overall it stitched just fine!



I didn't want to use an iron on this fabric so I just finger pressed my seam allowances open.



Next I pressed my neck bias strip in half with the WRONG sides together widthwise.



Starting at the back and with some overhang, I pinned my neck bias strip with the edge aligning with my neckline edge.



I pinned all the way around and sewed together at a 3/8" seam allowance. Then I flipped the bias strip upwards to create almost a little neck band finish.



To keep the neck band from flipping down, I actually topstitched my allowance in place.



Next was to stitch the side seams, so I pinned my bodices right sides together along the side seams and stitched along my seamline.



Then I finger pressed both of my side seam allowances open.



Now it was sleeve time! I first pinned my sleeve seams right sides together.



I started stitching exactly at the sleeve hem since I'm leaving this edge raw.



Then I finger pressed my seam allowances open.



Before I set my sleeve in I had to stitch in some basting stitched around the crown. On the pattern there are some ease notches to follow.



This is how I always pin my set in sleeve in: First I lay the garment right side up with the side seam facing me. I also make sure my sleeves are flipped right side out.



Then I pin my corresponding sleeve right sides together with my armhole with my first pin matching up my underarm points.



I then take my shoulder seam and flip it up to match the top notch in my sleeve – this is my second pin.



Then I work in and pull my basting bobbin threads to match the armhole and pin every inch or so.



Lastly I stitch around my armhole leaving the pins in and starting and ending at underarm point – voila, a set in sleeve!



For this style I pushed my armhole seam allowances towards my sleeve.



And again left my sleeve hems raw.



Now it was time to sew in my basting stitches to the waistline of my bodice overlay. Note: There are specific notches to gather in-between indicated on the pattern. I first marked these all with pins.



I basted in-between all notches making sure to leave long bobbin thread tails.



And also left my pin in to mark my center front.



There were also gathers to be stitched in the back!



I grabbed my under bodice and laid it right side up on my table. I then placed my overlay, also right side up and first pin matching my "landmarks". Like the side seams, center front, and center backs.



Then I pulled my bobbin threads until my overlay matched my underlay waistline length. I dispersed the gathers evenly and put a lot more pins in.



And lastly before I worked on and attached my skirt, I secured my gathers with a holding stitch inside my seam allowance width. For this stitch I went back to my regular stitch length.
Then that completes part 2 of my December Mash Up! I'm really enjoying making this dress, and if you want to follow and sew along make sure to download the pattern here and also check out part 1.
Happy Sewing!