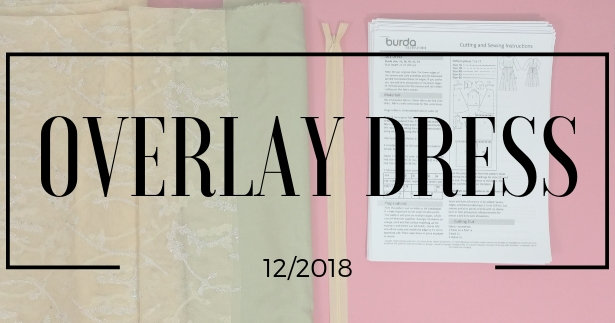 ShareThis
I'm really excited about this month's Mash Up, and like I said in this week's episode of Sew & Tell I'm sewing up our Dress with Sheer Overlay. I wanted to sew up something extra special for my last Mash Up of 2018, and what a perfect time of year as I can wear it on New Year's Eve – one of my favorite occasions to dress up on. Read on to see my first steps in sewing this dress…

I really can't say enough how much I love this pattern – and with a gorgeous overlay in mind, I headed to the fabric store!



While I was browsing the fabric store I was looking for fabric that caught my eye, and this coral-like nude mesh with pearl and colored beads just jumped out at me. I liked the idea of "lightening" up the style, although I do love the deep embroidery of the pattern image. Maybe because I have wedding designs in my mind and I want to sew everything now in light pastels and white. Next was to find an underlay, and luckily this sage green silk was on sale! It perfectly picks up the green beads in the overlay – and I can't make a special dress without any green.



I also really love how this nude beaded mesh looks on my skin and it is going to look so cool in long sleeves over the green bodice. Now to switch up the dress! So, when I got home from the fabric store I handled the beaded fabric and it was actually quite heavy. And in looking at the pattern pieces, the overlay skirt is both pleated and gathered – I don't think these bead will like that. I then came up with the plan to only overlay the top! So I'll cut the overlay skirt piece in my green silk (thankfully I had enough) and omit the underlay skirt pieces. Thinking about it more, I'm really excited to see how this turns out.



As with most patterns, I needed to alter the length. I cropped the skirt pieces 6".



Then I placed on my green silk and cut out.



While my green silk was out, I placed and pinned all my bodice pieces.



There are also some draft it yourself pieces including the bias strips for the spaghetti straps and the finishing strip for the neckline. I usually draft on paper first and then cut out, but instead I just used my rotary cutter and ruler to cut directly from the fabric on the bias.



Out of the overlay fabric then I just cut the bodice and sleeve pieces. I did although buy enough fabric to cut the skirt pieces so I have a bunch leftover and trying to think of what else to sew from it.



I'm now kinda obsessed with this way of marking darts. I cut out my size line and lay on the pattern pieces…



Then using a frixon pen, I draw a dashed line to the point.



First things first, I stitched all my darts and pressed all the intakes towards the center.



Before I sewed my bodice side seams, I serge-finished all the edges.



I interfaced my neckline facing pieces and pinned them right sides together along the side seams.



I stitched both side seams and press my seam allowances open.



But before I attached my facing, I serge-finished the lower edge. At the point I wrapped my serging tail into my stitch to prevent fraying.



Next were the straps! I folded and pinned both my strap pieces right sides together widthwise.



I stitched together about 3/8" from the edge.



This stitch was about in the middle of my strap width.



Using a strap turner, I flipped my strap pieces to the right side. I just LOVE this tool!



Then I pinned my straps in place on the bodice points.



I pinned with my strap seams facing in towards the center and also basted in place inside my seam allowance.



With my bodice right side facing up, I pinned my facing piece right sides together with my bodice making sure to match up the side seams.



I stitched together and then flipped my facing to the wrong side and pinned in place for now.



Love a good strap sandwich – and I'll also be sewing the back straps in place later when I have a chance to try on the dress.
And that completes part 1 of my December Mash Up! Sew-along with me and download the pattern here. Next week I'll tackle the overlay.
Happy Sewing!