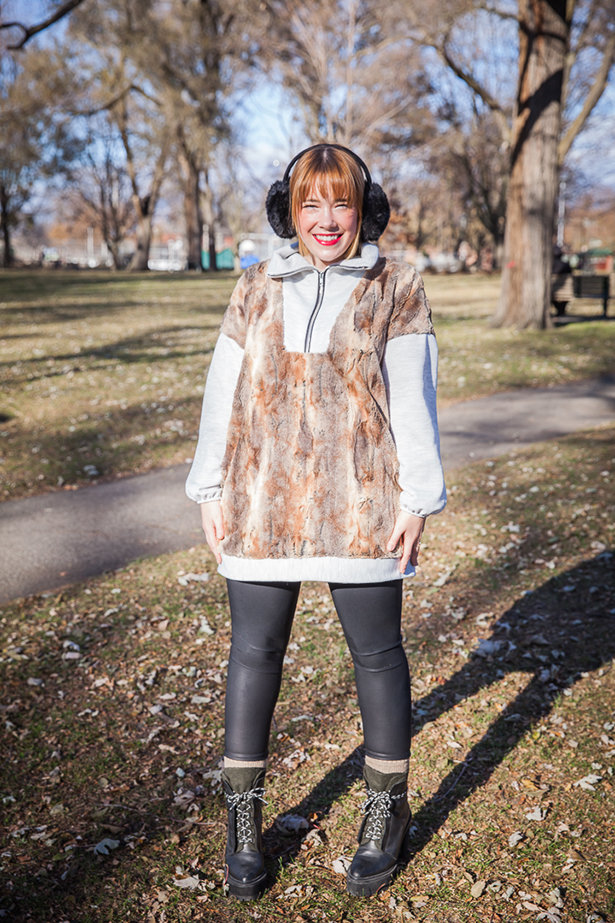 ShareThis
I'm so excited to debut my finished December Mash Up Project! This month I wanted to sew a nice comfy and cozy sweater and our Ski Sweater pattern was perfect. Best of all I used up fabrics that I already had in my fabric stash including faux fur and sweat-shirting. Read on to see more pictures…
I hope everyone had a happy holidays, although it is sad for it to be over I still have New Year's Eve to look forward too. We are going away, and this sweater will definitely be the first thing that I pack. That also reminds me that I still need to make myself a dress… well I better get started. Or I could just wear this fuzzy long sweater with some sparkle tights, thoughts?

This sweater is going to help me go through this cold Canadian winter we are having! Also excited to wear it to skating dates with my new ice skates. I especially love the zipper and how it zips up right over my mouth for extra warmth, and that faux fur… so cozy. Sewing with faux fur can be difficult at times, but you just need to be patient and have the right sewing machine accessories.



Want to recreate this cozy sweater for yourself? Click parts 1 and 2 to see my sewing steps, and don't forget to download the sewing pattern here!



I'm so happy that this year I sewed a pattern from every issue! I wonder what 2018 will bring. Already getting a glimpse at the 01/2018 issue, I'm excited to get started on my January Mash Up which may be a yoga pattern.



We have bundled up every pattern that I have sewed and Mashed Up this year and discounted it so you can sew-along to every pattern. Get the bundle here!


Happy Sewing! And almost 2018!
Meg
p.s. Which pattern from this post should I whip up quick for NYE?