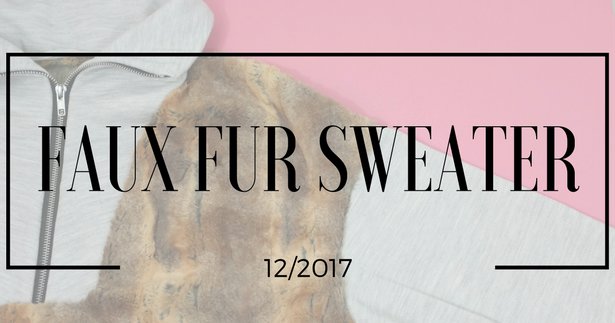 ShareThis
Last week I started sewing my December issue Mash Up and this week I finish up sewing it! I install the zippered collar, attached the sleeves, and sewed in the hem band. Read on and sew-along!

If you missed my last post, I'm sewing up our Ski Sweater pattern from the 12/2017 issue. I chose faux fur for the body of my sweater and fleece lined sweat-shirting for the collar, hem band, and sleeves.



After my collar was sewn with the zipper, it was time to attach to the neckline of my sweater. I first matched the bottom of my collar, then the notches in my collar with the shoulder seams. Then I sewed into place, right sides together, making sure to pivot at the corner bases of my collar for a perfect cornered edge.



My zippered collar!



Now it was time for the sleeves. I matched up the top notches in my sleeve pieces to the shoulder seams and stitched in place.



Once the sleeves were sewn to the body, I matched up the sleeve seams and underarm points, right sides together. Then I sewed from the sleeve hem to my sweatshirt hem.



I flipped right side out and revealed my finished sleeve!



For the hem band, I measured my sweatshirt hem circumference and cut my band 5" wide (I divided mine up into 2, 2 1/2" pieces since I didn't have enough fabric) and 2" short of my hem circumference so it would stretch in a little bit.



Then I sewed to the bottom of my sweatshirt and flipped down.



The last thing I needed to do was finish my sleeve hems. I wrapped elastic around my wrists until it was a comfortable (but not too tight) and stitched so they were a circle.



I matched up and pinned in my elastics so that the seam of the elastic corresponded with my sleeve seam, and that's were I started stitching.



As I sewed in my elastic, I stretched it to match up with my sleeve hem allowing it together in and stretch!



I repeated on my other sleeve hem, and my faux fur sweater was complete. I'm obsessed with this top and want to make more is different colors of fur!


Next week I'll debut this project and have it photographed on me. You still have time to sew your own of you want your project to be in my debut post. Missed part 1? See it here and sew along! Don't forget to also download the pattern.
Happy Holidays and Sewing!
Meg