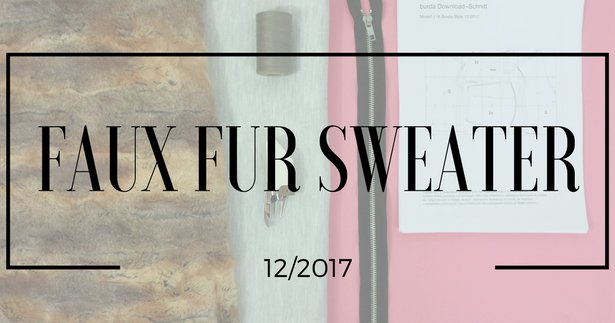 ShareThis
I know I skipped last week's Mash Up post, but I was away in studio filming another course and sew-along for BurdaStyle Academy! This I'm back and very excited about my December issue Mash Up. I chose a pattern from our recent Home for the Holidays collection as I loved all the cozy and festive styles. Read on to see which sewing pattern I picked and my first steps in sewing my December issue Mash Up…

As I was flipping through the magazine first looking for a dress pattern that I could use to make my NYE dress, but then I spotted this sweater and fell in love! I love the large zipper and hemline, as well as the fabric panelling. It is going to be a cold winter for me this year (right now it is about -20 outside) so looking back, I'm sure glad I chose to make this sweater.



This pattern is our Ski Sweater #116 12/2017 and comes in sizes 36 – 44. I decided to make a size 38 because I didn't want it to be so baggy that I couldn't feel the warmth of my fabric on my skin. Now let's talk about the fabric… I went through my stash (love stash projects), and I found some leftover grey fleece as well as a bunch of faux fur. I was hesitate as combining these fabrics at first, but the more I looked at them together on my drafting table, the more I feel in love and was excited to start sewing! I used Shannon Fabrics's fur that is so soft and warm (buy here!), and I dug through my zippers to find the perfect metal one to match my fabric and die in the grey of the fleece.



I only made a few modifications to this pattern. I first lengthened the hemline and wanted to add a bottom band since hemming faux fur isn't the easiest and a cleaner look would be to attach a contrast band. Also on the sleeves, I opted for an elasticated edge instead of ribbing as suggested.



To lengthen the hem, I taped on some additional paper and drew down the hemline an additional 3".



I cut the sleeves and collar pieces in my grey sweat-shirting fleece fabric, and made sure to save enough to cut the hem band later when I got to that step.



Then for the fur, I placed the front and back pieces on the back and used a knife to slice ONLY the backing.



The first step in sewing this sweater is to sew the shoulder seams together. So I pinned my faux fur front and back pieces together along the shoulder line.



In order to sew faux fur well, I first installed my ball point sewing machine needle (since the backing of my fur was knit) as well as my walking foot. I stitched my shoulder seams together.



I repeated for the other shoulder seam and here they are!



Now was time for the zipper! I aligned my zipper to the front piece #23 to be exactly that length, so I marked the edges with pins.



To shorten the zipper to match my front edge, I removed zipper teeth from the bottom edge since the zipper pull will be stopped from the seam. I plucked enough teeth to allow for my seam allowance width from the bottom in order to sew together.



I first placed my zipper wrong side down on one of my front pieces aligning the top and bottom.



To secure my zipper before I sewed in with the other collar piece, I basted a line right on the edge of my zipper tape stitching it to the fabric front edge.



View from the bottom!



I placed my other collar piece, right sides together, sandwiching my zipper in between as pictured. Then I sewed together close to the zipper teeth, backstitching at the top and bottom.



Now time to sew the other zipper half! I flipped my previously sewn zipper edge, right side out, and aligned my unsewn zipper tape to my other collar front edge.



And again, I basted in place on the edge.



Then I took my last open collar front edge and placed on my zipper, right sides together and stitching in place as I did for the other side.



Then I opened up my collar and pinned the top edge, right sides together. The zipper needs to be unzipped enough for this to happen. Then I stitched together from front to front, where the zippers were.



Once I clipped the front corners of the top of the zipper and trimmed my seam allowance, I was able to flip my collar pieces, with my zipper to the right side and match the bottom and outer edges to be sewn into my sweater.



Unzipped! I basted around the entire bottom and outer edges to make these collar pieces act as 1 layer of fabric.



View from the bottom.


Next week I'll attached the zippered collar to my sweatshirt! Sew-along with me and download the pattern here.
Happy Sewing!
Meg