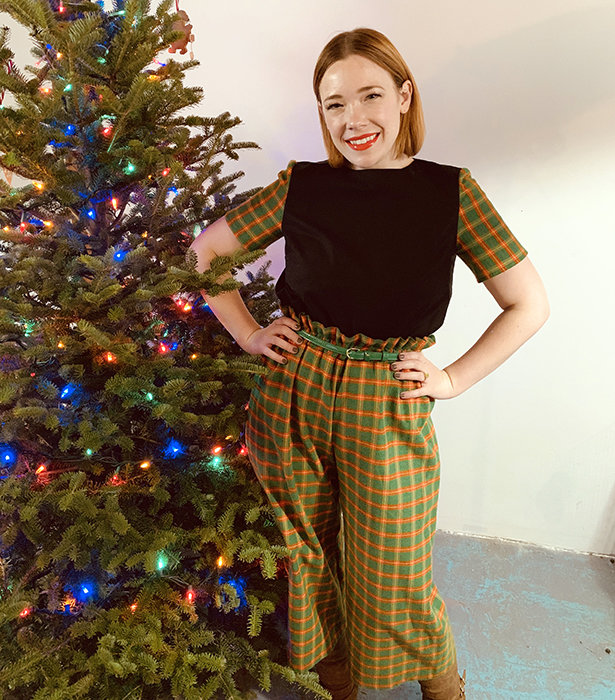 ShareThis
This is definitely going to be my go to holiday outfit this year! Here is my finished November Mash Up where I sewed up these culottes and this retro top pattern in matching plaid fabrics. Super excited to rock this outfit at a holiday party this Friday, just need to find the perfect statement holiday earrings. Read on to see more pictures as well as links to all my tutorial posts so you can sew this look too…

We put up our tree over the weekend, and I just couldn't wait to photograph this outfit in front of it – even though we don't have all our ornaments on it yet. This year we have slowly been putting the tree together, one day setting it up, the other putting the lights on, and just yesterday the star on top. I love decorating the tree so much we decided to stretch it out over a week to make the process last!



For the culottes, I altered the top to have a paper-bag waist style which I ended up styling with a belt. I love the high waistline of these culottes as well as the cropped hemline.



I think my favorite way to wear culottes this season is with high boots! Really loving that look, and I think I see more culottes in my future…



Thank you all again for helping me decide which matching top pattern to make in part 2 – and I love the way it turned out with just cutting the sleeves in my leftover fabric. Would have been way to overwhelming all in plaid!



I cut both my culottes and top in size 38, and the black fabric I used for the body of my top was a cotton with elastane across the grainline which gave it a bit of needed stretch.
To make this holiday plaid look yourself, click the images below to see each tutorial post:



Really love how this whole look turned out and I currently scrolling through all the December issue patterns thinking of what to sew for my next Mash Up.
Happy Sewing!