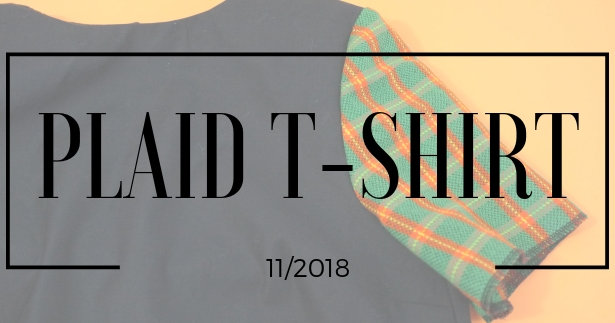 ShareThis
The votes are in from my last post, and I decided to make a matching plaid top using our popular Retro Top pattern. Read on to see how I sewed this top together…

I now know why this is one of our top selling patterns on BurdaStyle.com.This pattern was easy to sew, and fit perfectly for a boxy-relaxed shirt meant for wovens. So glad you all helped me decide to make it! I also took a suggestion to not sew the entire top in plaid, so I just cut the sleeves in my leftover fabric from my culottes.



I printed, tiled and added seam allowance to my pattern on my usual size 38 seamline. I also recently started making my darts like this – where you cut into the pattern along your dart size line. It really makes marking the dart easier, and I like to use chalk.



I marked both darts on my front and back pieces and then stitched them all into place. Here is one of my bust darts pressed downwards, and I pressed my back neck darts with the intake going towards the center back.



Then I finished my shoulder seam allowances, sewed them right sides together, and press the seam allowances open.



Next was to stitch my facing shoulder seams right sides together. Then I press the allowances open and serge-finished all around the outer facing edge.



I pinned my neckline facing right sides together with my top matching up the shoulder seams. Then I marked the center back slit line along the wrong side of the back facing.



Starting at one of the shoulder seams, I sewed my facing to my top pivoting and stitching down just to the side of my center back line.



When I reached the base of my slit I pivoting once again and sewed about 3 short stitches across the bottom before sewing back up the other side.



Once sewn I cut down the slit from my neckline to the bottom of my stitching.



I then graded my facing seam allowances and flipped to the right side and pressed. I also under-stitched to keep the facing from rolling to the right side getting as close as I could to the center back slit. At this point I also sewed the side seams of my top together.



Now it was sleeve time! First I serge-finished the sleeve seams and stitched right sides together.



I then pressed my sleeve seam allowances open and flipped to the right side to better pin into my armhole. This sleeve set in pretty well, but I still needed a few easing stitches to help guide in the cap.



Love the patterned plaid sleeve with the simple black bodice.



Next was the hem, so I first serge-finished the bottom edge and pressed my hem allowance in place.



And also did the same to my sleeve hems.



To secure the top of my center back sleeve slit, I hand stitched a single matching shank button in place right at the top corner.



Then on the other side I cut a very small piece of 1/8" wide elastic and stitching in place to make a loop.
Really happy with how this top turned out as well as my culottes. Very excited to put this plaid outfit together, and I think I'll wear it to a holiday party I'm going to next week.
Happy Sewing!