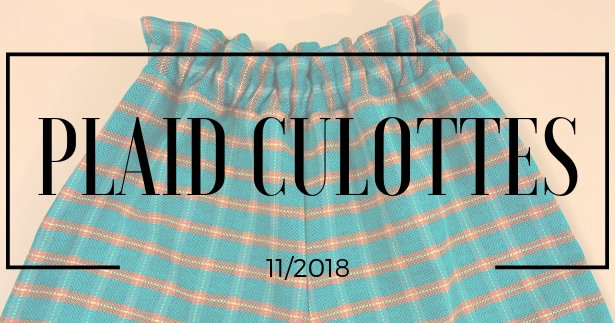 ShareThis
Now I'm all about the plaid! In part 2 I work on the paper bag waistline and hem of these glorious culottes finishing them off, and now all I can think of is what matching top to create with with leftover fabric. These came together so easy, and you really can't go wrong with an elastic waist.

Again I'm sewing up our Culottes pattern from the November 2018 issue of BurdaStyle magazine, and altering the waistline to be more like a paper-bag waist style with elastic. Last week I stitched together the main body of my culottes and now I'm ready for the waistband!



To start my waistband, I serge-finished both edges of the right side. The left waistband seam will be completely concealed so I didn't finish it.



On the left waistband edge I first pin matched the plaids, then stitched together and pressed my seam allowances open.



Then on the right side I stitched about 3/4" from the bottom, and starting from the top to make about a 1" opening in the seam. I backstitched at each end of the opening well.



I then pressed my left waistband seam allowances open also pressing the allowances away from the small opening. I also pressed my waistband in half with the wrong sides together.



To attach the waistband I pinned the lower edges, right sides together matching up the waistband seams with the side seams of my culottes.



I stitched all three layers at my 1/2" seam allowance. I made sure that my waistband's side opening once sewn and pressed up was indeed on the inside.



Once sewn, I serge-finished all my allowances together and pressed down.



I then located my inside waistband opening.



Before inserting my elastic into my waistband, I wrapped the elastic around my waist to get the ideal length. Then I cut with an allowance to sew together once in the waistband.



Using a large safety pin, I threaded the elastic all around my waistband until it came out the other side.



I made sure that my elastic wasn't twisted at all and then stitched the ends together.



With the elastic now fully inside my waistband, I pushed the elastic right to the waistline seam and pinned slightly above the other edge. These pins will hold the elastic down until I stitch it in place to keep the elastic near the waistline seam to create that paper-bag waist style.



Be careful to not stitch through the elastic, I sewed around the waistband. Tip: for plaid fabrics I followed a plaid line to help keep my stitching perfectly straight.



Voila! I'm now obsessed with this waist treatment for a pair of pants.



They're almost done – all that's left is the hem. I serge-finished the hem edges and pressed up my hem allowance amount and pinned in place.



Finally I sewed my hem in place perfectly in line with a plaid stripe to make it invisible! I know I could have hand stitched it to truly make it invisible, but I get inpatient nearing the end of a project, haha.
Ok BurdaStylers, I now need your help! I have enough plaid fabric leftover to make a matching top, and I think I need to wear this entire plaid outfit to a holiday party this year… Which top pattern should I sew?



Our Retro Top, or our Puff Sleeve Shirt? LEt me know in the comments.
Happy Sewing!