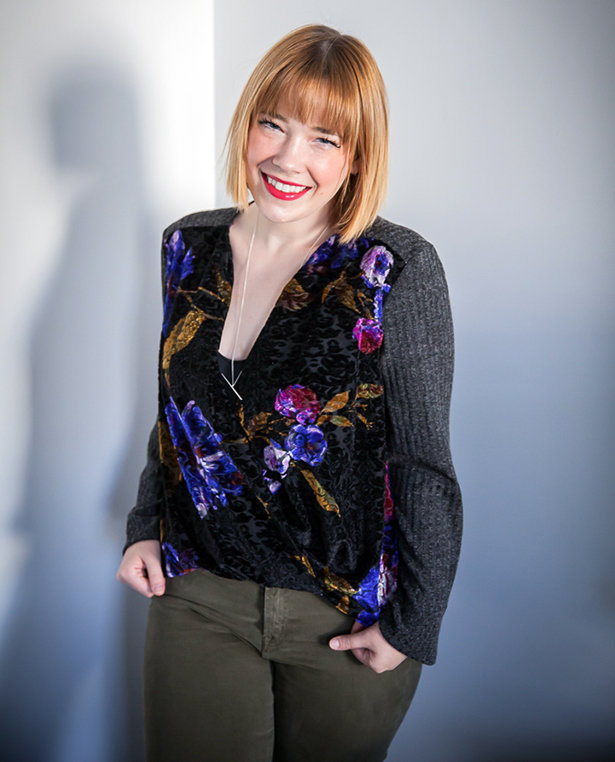 ShareThis
Here is my finished November Mash Up! I'm so thrilled how this top turned out, so thrilled that I even made another version without sleeves to wear under blazers and cardigans. This velvet and sweater knit variation of our Faux Wrap Blouse is cozy while being a bit fancy too due to the burn out velvet. I see myself wearing this top a lot during the holiday season with various pants and skirts. Read on to see more images as well as my sleeveless version…

I love how this top can be styled, as it is so versatile. Paired with black tights and a leather skirt, it would make a fabulous going out look with a long necklace. Then worn with jeans or any other casual pants this top becomes a comfortable blouse perfect for everyday wear or even lounging around. Want to make one for yourself? Click the parts below to see how I sewed this top together.



As soon as I finished my velvet blouse and tried it on, I fell in love with the crossover front fit that I knew I wanted to make another. I immediately started digging through my fabric stash bins, then remembered I had some of this lovely Shannon Fabrics Embrace double gauze with metallic stars. This would make a perfect top for the season since it has a bit of glitter and glamour to it. I have a ton of awesome blazers and layering pieces that I like to wear over sleeveless tops, so I made this version without the sleeves!



To finish the armhole edges I could have drafted and sewed a facing in place, but to keep it easy I simply serge-finished around the armholes, pressed to the wrong side, and stitched in place.



The criss cross front style of this top pattern worked really well in double gauze, and I also used the same fabric as the peek-a-boo from piece (for my velvet top I used a basic black jersey in contrast to the velvet).



Purchase this fabric here to make your own!



I haven't tucked the paper pattern away too far since I might just make another one soon! But now I'm flipping through the December 2017 issue of BurdaStyle magazine to see which pattern I want to Mash Up next…


Happy Sewing!
Meg