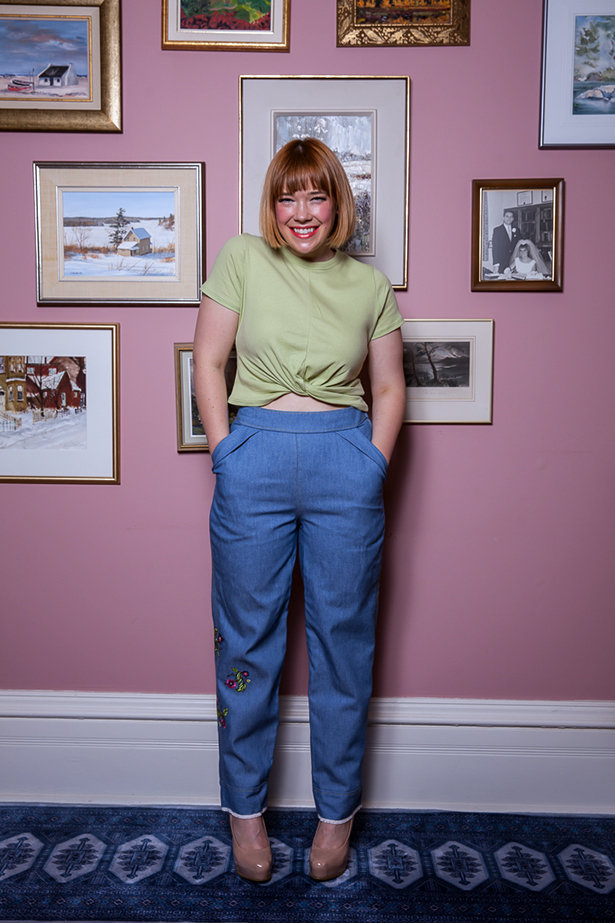 ShareThis
With Pants Month coming to an end, so does my pants Mash Up! These jeans turned out great and I love the retro vibe they have with the color of denim to fit and embroidery. Read on to see more pictures of my finished embroidered jeans from the 10/2017 issue…
I used our Pleat Trousers pattern for these and sewed them in a denim with slight widthwise stretch. I topstiched all seams with topstitching tread to compliment the denim, and also embroidered along the side seam of one of the legs. These pants close with a side seam zipper that I made go up to the top of the waistband, and then further secured with a hook and eye. For the hem, I utilized the selvedge edge fray on the denim and made a cuff that I attached and topstitched at the bottom. This is how they turned out:
My favorite part of these jeans is the pockets and pleats! I also like the high waistline that allows me to wear crop tops with these pants. I usually wear bottoms with tighter legs, but I like the looser, straight leg silhouette of these as it adds to the retro flair. I would definitily make these again in a fabric more like the pattern. I unfortunately didn't make this top, but I do love it and a similar knotted style can be found on this top pattern.
Want to make these for yourself? Click the images below to see my sewing tutorial posts:

The end of one Mash Up always means that a new one is also going to start from the next issue of BurdaStyle! I just received my 11/2017 issue in the mail and I have been flipping through to see which sewing pattern I want to Mash Up for November. I have it whittled down to these two styles. A top and a blazer… Let me know in the comments section which pattern you think I should make next month. I won't be posting until November 15th because I will be in Italy on our 9 day fashion tour with Craft Tours. I'll be posting recaps of my adventures here on the Burda blog, so make sure you check back to see what I have been up to.


Happy Sewing!
Meg