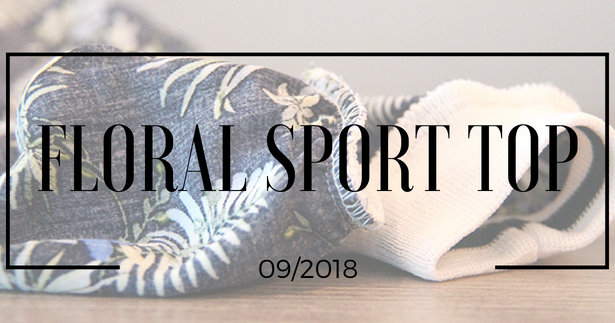 ShareThis
Hey Everyone! Sharadha here, from SweetShard – I'm so excited to be taking over this month's mashup for BurdaStyle! It's been a busy summer of sewing, so I'm really happy to take on #102 from the BurdaStyle's 2018 September Issue. This is a very simple make, which is perfect if you feel the need to create, but don't want to spend too much time on it. Don't believe me? There are only 4 pattern pieces!

The photos and pattern suggest lace with jersey lining, however, I wasn't able to see myself in lace, so I opted for rayon instead, leaving out the lace entirely. Luckily, going this route doesn't change the instructions because you're supposed to cut and baste each piece together, treating the lining and lace as one layer.

For this project, I used French seams with a half inch seam allowance for everything, unless otherwise noted. The reason I opted for French seams is because I wanted a super clean look on the inside…and my serger gives me a hard time with light weight fabrics! But for real though, when I flip this blouse inside out, I just adore how it looks with the French seams, so I'm happy with my choice!
Let's get into this tutorial! To start, I attached the shoulder seams and pressed toward the back. Pretty straight forward stuff, nothing fancy here, folks!



Aaaand that's about as much of the instructions I followed. This pattern is so simple, that even if you have a basic understanding of garment construction, you can put this together in the order that suits you the best! For me, this is where I deviated – basically, I wanted to get all my French seams out of the way, so rather than finishing the neckline then stitching the bodice side seams, I opted to attach the sleeves first. This way, I was able to create my French seams easier and cleaner, pressing the seams away from the bodice.



Then I stitched the center back together.



To complete the basic structure of this blouse, I pinned the sides together from the sleeve to the bodice bottom and stitched all the way down.



Now it's time to put the finishing touches on! Let's start with the hem: The instructions suggest 1 ¼" hem allowance, but I chose to use only 1". So I folded up once at 1", then folded the edge inward by ½".



After a good press, I straight stitched my hem.



Moving on to the neckline, I folded my neck binding in half, lengthwise, and pressed. Then starting at the centre back seam, I began pinning it in place until I got all the way around. Once I got back to the centre back seam, I marked where the two ends of the binding met, stitched them right sides together and trimmed any access material off.



Next, I stitched the neck binding to the bodice, trimmed the access seam allowance off and created notches along the curves to release any fabric tension. I then folded the neck binding over to the wrong side of the bodice and pressed it in place.



And of course, a nice stitch to finish off the neckline – ugh, I can't even tell you how satisfying the look of this is for me!



Now it's time to work on the ribbing! With right sides facing, I stitched my ends together, trimming off any extra fabric.



Then I folded it again in half.



With right sides facing, I matched the seams of the ribbing and sleeve together, pinning in place. I stretched the ribbing all the way around the sleeve so it's flush and pinned wherever necessary. Then I stitched the ribbing and sleeve together with a straight stitch.



And finally, I finished this seam with a serger, but you can use a zig zag stitch, too!



Et voila! I'm really happy with how this turned out and I especially love the ribbing – it really makes this top look so professional! This is a very fast and easy make, so I recommend this one to everyone who needs a sewing breather but still wants to look tres chic!