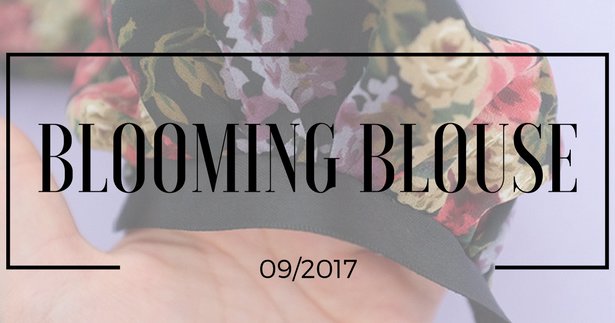 ShareThis
Last week I debuted which pattern from the September issue I was mashing up! It's our High Neck Blouse, and this week I made some great progress on it. Read on to see my next steps in sewing this fall floral blouse…

I'm sewing #104B from the 09/2017 issue that was just released in Monday's collection! I love this pattern as I'm obsessed with high necks at the moment. I'm a little sad it is getting warm again because I wanted to break out my turtlenecks soon!



Last week I finished off by stitching on the decorative ribbon along the sleeve attachment seams. For my first step this week was to pin and sew the side seams of both the sleeves and the blouse.



I serged the fabric edges first so I could press my seam allowances open.



View of my blouse so far from the right side with side and sleeve seams sewn. I love the ribbon detail so much!



Since the sleeve seams were sewn I could now gather and attach the "cuffs". Starting and ending at each slit edge I stitched a basting stitch and pulled the bobbin thread to gather in the sleeve circumference.



For my size I had to gather the sleeves to be 7 1/2" long, and once I got to that length I pinned the gathered edge to one side of my ribbon. I made sure to leave some over hang on either side as well!



I sewed at a 3/8" seam allowance since my ribbon wasn't that wide. I serged all the edges together and pressed the allowance up towards the sleeve. Here is the view from the right side. I love this look!



On the inside I pressed back the ribbon allowance and secured by ironing a piece of fusible tape in the same color black. This also helped prevent the ribbon from fraying!



I did the same thing on the other side as well. To close the cuff and slit, I'm just going to sew a simple small snap at the base of the slit on the cuff.



Now that the sleeves were done I serged the hem to prevent further fraying in preparation for sewing the shirred collar.


Missed part 1? Click below to see my first steps in sewing this blouse…
That completes part 2, and stay tuned next week for my Mash Up debut and how I sewed and gathered the collar.
Happy Sewing!
Meg