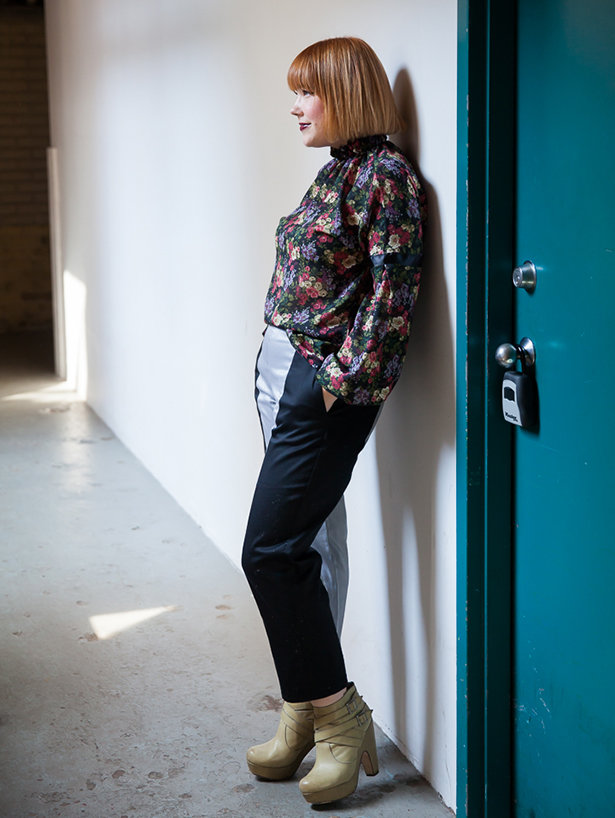 ShareThis
Last week I finished off with sewing the cuff and this week is all about the shirred collar! Then after I sewed in the collar and stitched the hem my blouse was finished and I absolutely love it and it is the perfect blouse for the fall time. Read on to see how I finished sewing my blouse and more images…

Again I'm sewing our High Collar Blouse pattern and I ended off last week with sewing the cuffs. The last step was to sew the collar, so I grab my collar piece and shirring elastic cord!



I sewed the collar a little differently than the pattern indicated. I first folded the collar in half widthwise, pressed and then basted the edges in place to keep the collar folded while I sewed on the elastic. I set my machine to a wide zig-zag stitch and about 1" away from the top fold I zig-zagged over the elastic leaving overhanging elastic on either side.



My first row of stitched elastic!



I sewed another row of elastic 1 1/4" away from the first. Since I was using thicker elastic than the pattern said to, I spaced them farther apart and didn't sew as many rows.



After both rows of elastic were sewn I gathered them in enough for the collar to measure 7 1/2" long. I knotted the elastics, cut them, and then serged each edge separately. I wrapped the serging thread tail around the top so it wouldn't unravel because I wanted to sew the collar seam to press it open to reduce bulk.



My sewn collar ready to be put into the blouse!



The blouse is a little bit larger than the bottom edge of the collar, so I first basted a row of stitching and very slightly gathered it in to fit the bottom edge of the collar matching up the collar center back seam with the blouse's center back.



I sewed the collar around the neckline at my seam allowance and then serged all the allowances together and pressed downwards towards the blouse. Then I stitched another row of elastic right over the collar attachment seam and pull the elastic ends to bring in the neck seam. I tied in a knot to secure the elastic ends.



Finished collar!



It was now time to stitch the hem. I did a small double turn and topstitched in place.



The last step is always hand sewing for me, so to close up the ribbon cuff I hand sewed a large matching snap in place.



My cuff!



Here it is, my finished blouse and I'm obsessed with this floral print!



When deciding what I would wear with this blouse to photograph it I thought that these black and silver trousers would be perfect. They are actually a Mash Up from March 2015!
I'm going to get a ton of wear out of this blouse and probably first wear it out with these pants and boots because I love the look.
Since October is pants month I'm going to be Mashing Up the only pants pattern that is in the 10/2017 issue.
Happy Sewing!
Meg