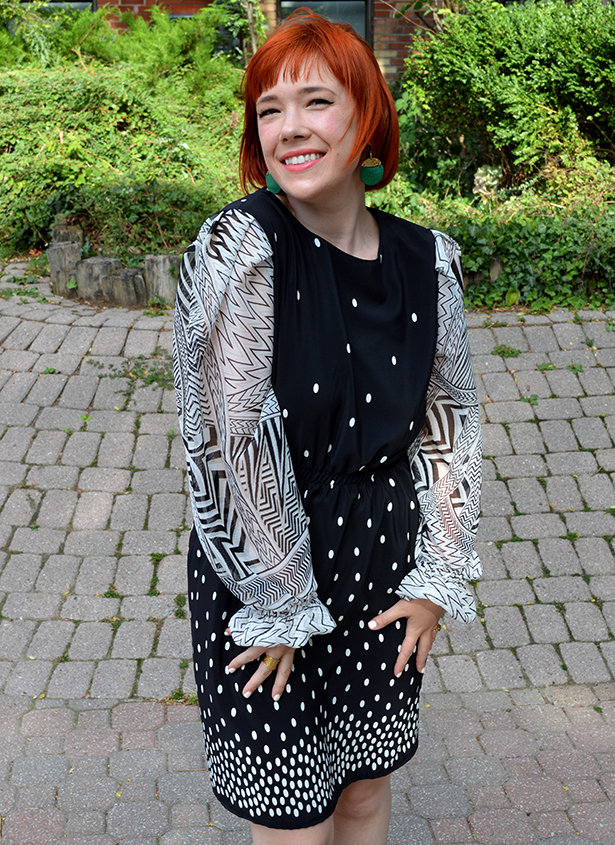 ShareThis
Here it is, my finished Elastic Waist Dress in a print mix of black and white crepe and chiffon. I'm thrilled with how it turned out as it is perfectly unique and easy to wear. Check out more images below as well as what I'm planning to "Mash Up" in September after my wedding.

The pattern I used is our Elastic Waist Dress and I cut and sewed it in size 36. For the modification I simply spread open the sleeve pattern piece to make additional pleats for fullness.



I cut the sleeves in a contrasting printed chiffon and I couldn't be happier with how it turned out.



My favorite part of this dress is the comfort level. The elastic at the sleeve hem and waistline make this dress a dream to wear – and it looks pretty chic too if I say so myself.



The print mix also works great together and I love how this dress in black and white is so versatile while being unique at the same time. Going to definitely pack this dress to wear on my honeymoon to NYC as it will be perfect for that time of year. Click here to see more images of this dress.
If you want to sew this dress for yourself, make sure to click on the images below for each tutorial post:



So now for what I'm going to sew in September! Because of my wedding, I'm going to be taking a little break, so I'll be back with my 09/2019 issue Mash Up the week of September 16th. But to give you all a little sneak peek, here is the pattern I'm going to be sewing from the issue…



I thought this jacket pattern was so chic and the cropped style with the belt will work perfectly into my Mash Up plan.



So this is my "Jacket / Blazer" garment for my capsule collection. Very excited to get started on it, but for now need to finish up last minute wedding sewing.
Happy Sewing!