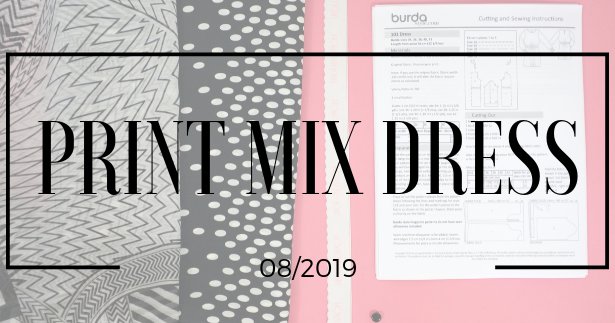 ShareThis
It's definitely going to be hard to beat my last Mash Up, but I'm sure going to try with this dress! I was waiting for the perfect dress pattern to fit into my capsule wardrobe, and I wanted one that was comfortable to wear but had some uniques touches to it so I could wear style it multiple ways. The dress pattern from the 08/2019 seemed like the perfect fit. Read on to see my first steps in sewing my print-mixing dress…

As I said above, I love this pattern. The elastic waistline is ideal for comfort, and the additional elastic sleeves are a fun extra! For this style I decided to cut and sew a size 36 due to the loose fitting silhouette.



I had other plans for both of these fabrics… The black polka dot crepe was indented to be a cowl tank, and the sheer printed chiffon was going to be a kimono cover-up. Since I hadn't started either of those yet, and these two fabrics were in my stash pile together, I thought they looked fabulous together so I decided to use them both for this project! I love a good sheer sleeve moment, and I also love a good print mixing.



For notions there wasn't much, just a little elastic (mine was 1" wide) and a small button for the top of the back slit. No zipper! That's another reason why I love this dress pattern.



Looking at the pattern, I wanted to add a little more volume in the sleeve especially since the chiffon was so light weight. So I decided to add some pleats! Pleats and fullness are so easy to add, just add "slash lines" to where you want your pleats to be and spread them. For this sleeve I used the grainline as one of the slash lines, and then drafted three more lines all 2" apart from one another. I extended these lines from the hemline to the sleeve crown parallel to the grainline.



Using my paper scissors I cut apart the sleeve along these slash lines.



I then grabbed some paper and places underneath the sleeve crown first and taped the sections down 1 1/2" apart from one another.



For the hemline I also wanted a bit more fullness in there, so I spread those sections and taped them down 1/2" apart. I'm running low on pattern paper, so I just used some at the top and bottom of the sleeve!



I needed to fill in the gaps of the sleeve crown so I used my curved ruler to "connect all the dots". For the dress I just added my seam allowances around the size 36 size line and cut out as is.



When cutting out the dress I placed the hem allowance of the dress below the stop of the polka dot print in the crepe.



Then I cut out my facing pieces.



Next I took my now fuller sleeve pattern piece to the chiffon!



I first serge-finished the shoulder seams on my front and back dress pieces and pinned then right sides together.



Then I stitched together along my seam line.



Next was to tackle the facing, so I first pinned and stitched the shoulder seams right sides together.



Then I pressed both my facing and my dress shoulder seam allowances open.



To install the neckline facing, I first serge-finished around the entire outer edge of the facing and pinned it to my dress matching up the shoulder seams. Then using the pattern piece, I marked the slit line and ending notch with a piece of chalk.



Then I started to stitch my facing in place starting at one of the shoulder seams.



When I reached the back slit line, I pivoted down and around the end notch stitching very close to the line.



Using my fabric scissors, I cut down my slit to the notch and then continued to trim and grade my neckline seam allowances.



Once my facing was flipped and press to the inside of my dress, I topstitched around pivoting again around the slit.



My neckline facing with slit!



I then serge-finished each separate side seam and pinned and stitched one side seam right sides together.



Using the pattern piece as a guide, I marked with chalk my elastic location. Note: I'm not installing my elastic with a casing, as I'm not a fan of casings and the elastic twisting that can happen.



I then measured from the hem of my dress to the marking, and marked that same measurement several times along the wrong side of my dress.



For the elastic, I wrapped it around my waistline to determine a comfortable length. I pin marked the center of my elastic and pinned it to my sewn side seam at my marking and then pinned each end of my elastic to the open side seam edges. I'm going to stretch and topstitch on either side of my elastic to gather in the waistline!
That completes part 1 of my August Mash Up, stay tuned next week for when I finish it up.
Happy Sewing!