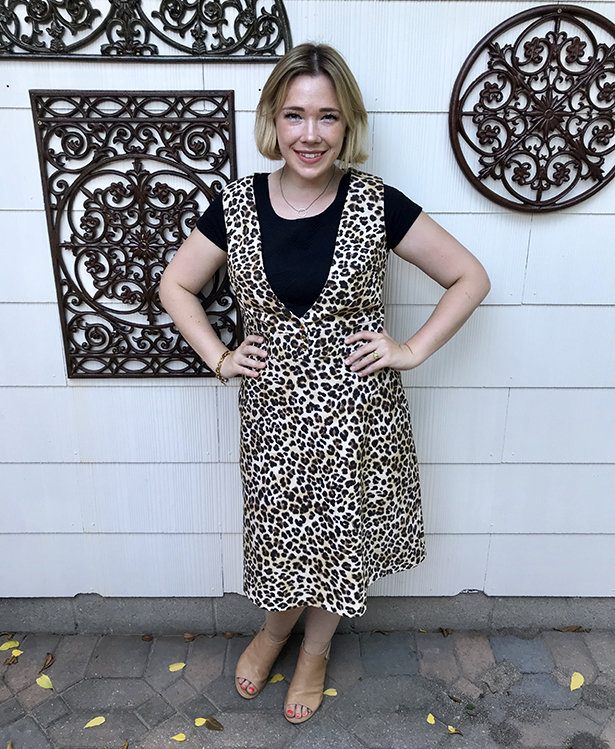 ShareThis
As soon as I finished up sewing and wearing my August issue Mash Up – my first fall pattern – there is a heat wave throughout the city! I really do love how this garment turned out, and here I paired it over a simple black T-shirt and nude booties for the canvas jumper's summer look! I can't wait until the leaves turn and fall so I can wear it over all my turtlenecks for sweater weather. Read on to see more pics, and links to my tutorial posts…

Again, I sewed up this pattern in a printed canvas fabric using BurdaStyle size 38. If fit really nicely in the waist area with just enough room to layer underneath, and I also love the silhouette shape of the A-line skirt. Best of all too – no darts!



My favorite part of this jumper are the little gold buttons with the overlap effect at center front, and I didn't even have to sew buttonholes! I also may replace the back zipper, it's fine and what was meant to be sewn in the pattern – but the original pattern called for lightweight fabric and since I used canvas the zipper is a little tricky to pull through all the waistband seams (since there are two layers – one being interfaced). I should have known from the start and while I was installing – but hey, the invisible zipper was just there and they are so easy to install! A gold metal zipper although could looks nice at the back and compliment the front bit of gold.
If you want to make one yourself, click the tutorial posts below and download the pattern here!



For my September issue projects, we're going to be "Mashing it Up" a little bit, haha. I'm going to have a couple of our BurdaStyle Influencers sub in for me while I'm traveling on our Burda Italy Tour! I'm so excited to see what they'll create.
Happy Sewing!