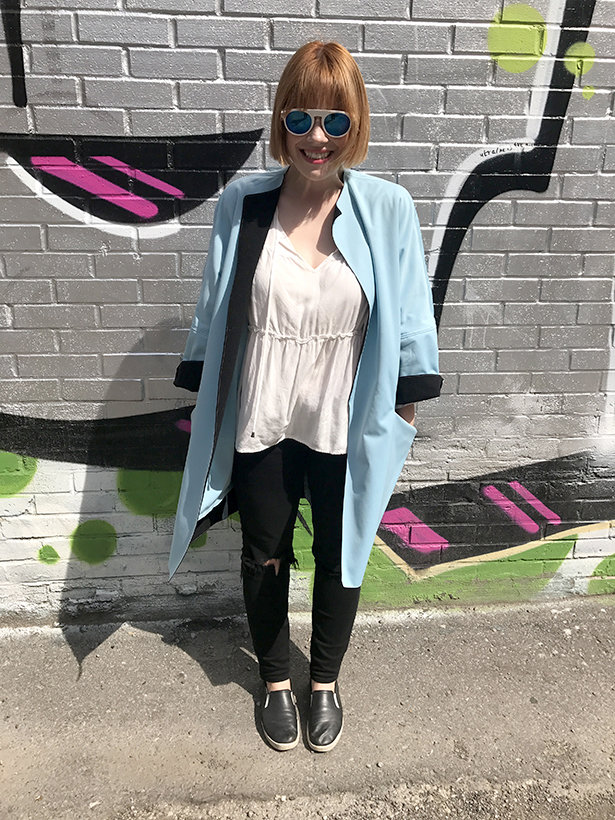 ShareThis
I was excited to finish up my coat this week and even take it for a spin. I wore it while fabric shopping and I got a ton of compliments. Read on to see more pictures and what pattern I'm "mashing up" from the September issue…

Last week I said that I wanted as much topstitching as possible but didn't end up topstitching the seam allowance of the sleeve bands. While I was trying it on I hated how the allowance rubbed against my arm and needed it to stay flat! I figured out that if I topstitched from the wrong side it could fit under my machine much easier since my machine didn't have a removable arm.



My sleeve band! I was now satisfied. I also asked you guys about the front closure of this jacket, and you pretty much were all for snaps down the front. I decided as the warm weather is still a bit here, I would keep it open for now and sew on large black snaps (and re-photograph) for the colder upcoming season.



The open front made this coat really easy to wear and I loved the look. I think my favorite part of this coat is the pockets, they are nice and deep and comfortable to rest my hands in. The cocoon like billowing silhouette is nice and it will come in hand when I'm wearing big sweaters underneath.



If you want to sew-along make your own variation click the images below to see my sewing posts part 1 & 2. Don't forget to upload to the projects page and link to the Jersey Coat so I can see.



Now we haven't released any 09/2017 issue digital patterns yet, but I already know which one I want to sew for this month's Mash Up..



I love this high neck blouse from the September issue, and know I will get a ton of wear out of it in the fall. If you subscribe to the magazine it is style #104B. I already have my fabric and pattern printed out so I better get started.


Note: Next Wednesday is my birthday and I'm announcing a special sale for that day only, so stay tuned!


Happy Sewing!