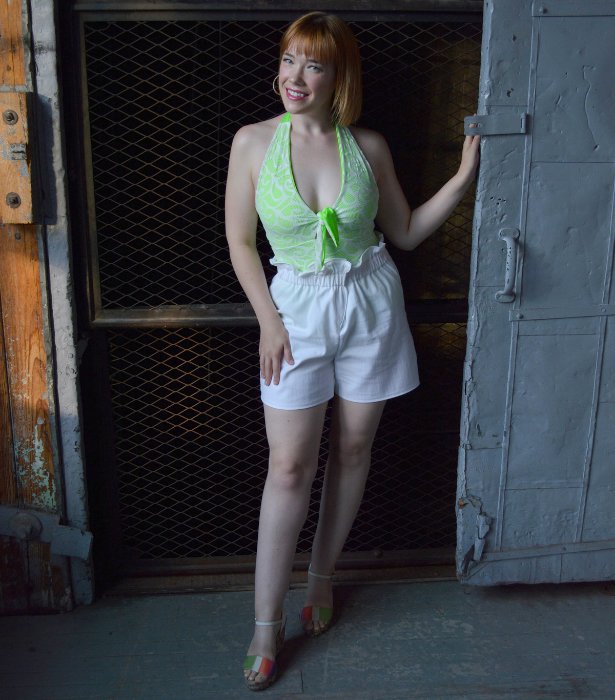 ShareThis
I'm ready for the pool! Super excited to share my finished "bridal bathing suit" and it's the first garment completely done for my upcoming wedding weekend where there is a pool. This pattern is the perfect one-piece bathing suit, so perfect in fact I whipped up another one immediately after I finished this one. Read on to see more pics of both my swimsuits as well as which pattern I'm "mashing up" next…

I think many future swimsuits I make will be using this pattern. The way I blended the size line from 38 at the top to 40 at the hips was good call and this suit fit me perfectly.



The white stretch lace and limegreen backing work so well together, and I'm so happy with how it turned out. Also love how it perfectly matched my ring too.



Here is the suit without a cover up! Check out more pictures of the suit here.



Speaking of a cover up… these shorts are actually made from a jumpsuit pattern! I cropped the hemline to be shorts, and then cut off the top portion of the jumpsuit above the elastic casing to create a paper bag waist style. These shorts have a crossover front and is just fastened by one snap making it the perfect cover up to put on and take off easily.



Since this pattern was such a success, and I had this lovely green ribbed swim tricot from Blackbird Fabrics, I decided to whip up another suit! It is also easier for me to batch sew swimsuits since I already had my coverstitch machine out, and stretch needle on my machine. So I just needed to switch my thread color and I was good to go. This variation I styled with the skirt I made for my Pattern Play column in Sew News Magazine that I further altered to be more summer weather friendly. Really love the look of this suit as a halter top – see more pictures here!
To sew one of these suits for yourself, click the images below to see the tutorial posts:



Well now that this suit is done with it's time to think about which pattern I'm going to "Mash Up" next! Looking at my plan, I think it's dress time.



Since I want my Mash Up capsule collection / wardrobe to be pretty wearable I wanted a dress pattern that I could style for day time and is comfortable. So I decided to sew our Elastic Waist Dress, and I'm thinking of doing some print mixing and sewing the sleeves and body in different fabrics. Stay tuned!
Happy Sewing!