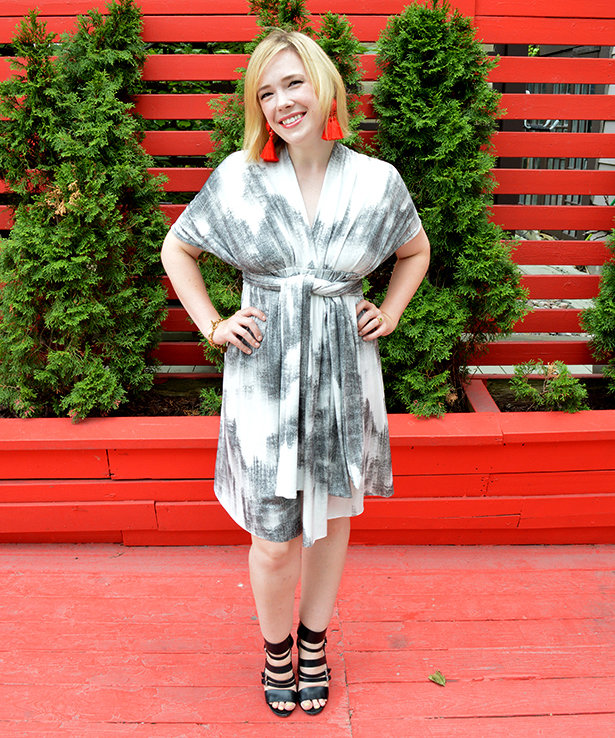 ShareThis
My multi-wear "Mash Up" dress is complete and I'm in love! I know I always say that about every project I finish making, but that's a good thing right? The extra pleats and the printed fabric really make this almost overdone style of dress really feel different and unique. Read on to see all the ways I can wear my new dress.

This over the shoulder way of tying up the dress is personally my favorite, and will be how I mostly wear this dress – as I like the extra coverage.



One shoulder designs I have always liked, so I just had to try tying it this way! I really like this variation of the dress, and thinking already what a great travel piece this pattern is for how versatile it is.



This high-neckline cross is another elegant way of wear this dress and really highlights some statement earrings!



The classic halter-style was the way I first tried to tie this dress, as it is the most natural – but you can really have fun with the back with all the twists and turns. I just can't forget to wear sunscreen if I wear this way in the heat since those could be some crazy tan lines. See the project here.
All in all, this pattern is going into my "make again" pile (when I finally get around to it), but I really like how Burda came out with a pattern for this versatile style that you can make in a fun print as I can recall only ever seeing these styles avaliable in solid jerseys. If you want to make one yourself, click the tutorial posts below and download the pattern here!



Really excited to start sewing my August Mash Up! Perhaps even start sewing something for the fall weather as it is my favorite season. The 08/2018 issue is now live and you can shop every pattern here. Any ideas on what I should "Mash Up" next?
Happy Sewing!