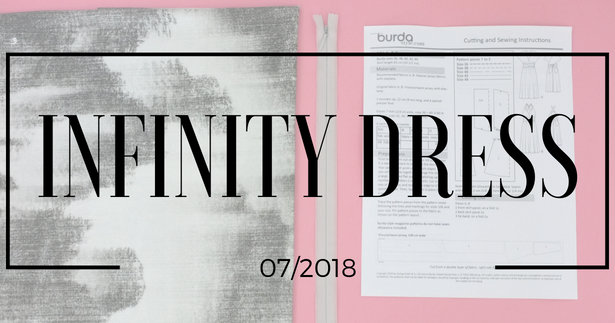 ShareThis
How is it July already? I took another break last week from my Mash Up after my June Reveal to work on a bunch of sewing samples for another film trip I have coming up next week, but I managed to start my July Mash Up which I revealed in our Burda Challenge Round Up post. It was difficult to decide on which pattern I wanted to "Mash Up" from the July issue, but ended up falling in love with Burda's version of an infinity dress. Read on to see my fabric selection, drafting modifications and first steps in sewing this dress…

Although I'm not a fan of these types of dresses as bridesmaid dresses (now that I have to think of these things, yay!), I do love these types of multi-wear dresses as a travel garment to take with me on vacation and trips. I also haven't seen these a lot in printed fabric, so I really likes that aspect of this style.



So once I decided that this was going to be my July Mash Up pattern, off to the fabric store I went! I was in search for a black and white printed jersey, and I found just that. I wanted the ability to wear other colored accessories to make this dress even more versatile. The pattern also says to pick up an invisible zipper – but depending on the stretchiness of your jersey, you may not need it. For the thread, since there are many pleats and gathers, I went with stretch Eloflex thread. Yup, still not over my obsession with this stretchy thread, it really makes sewing knits much easier.



This pattern is also quite long, and I even held the pattern up to me and it was a maxi length! I would like a maxi version of this dress pattern one day, just in this particular summer heat – I needed a shorter style. So I altered the hemline to be about 12" shorter. Note: I went with the size 38 for this project.



After I altered my hems, I went on to add all my seam allowances, and I only added 3/8".



What I really love about Burda's take on this pattern, is to have two layers for the bust long pieces. Yes it takes up a bunch of fabric, but the security once wearing is just great! So I cut out 2 bust pieces on the fold (so four layers) and then one of the front skirt and two of the back skirt.



The first step to sew this dress is to mark all the pleats! And there are A LOT – but that's what I love most about this pattern. To mark my pleats, I simply just clipped into my seam allowances at my pleat lines which I extended from the seamline after I added my seam allowances.



On each bust piece I folded them in half along the foldline, right sides together, and pinned together the long side edge and un-pleated short edge.



Since these were straight seams, I used my serger to sew them together. At the point I wrapped my serger tail into the stitch to prevent unraveling of the corner.



I then flipped to the right side, matching up my pleated edges and pinned together.



To hold the edges together, I did a quick basting stitch inside my seam allowances.



Then I completed for my other bust piece. The folded pieces are the center front, and the seamed edge is the side.



Next I pinned all my pleats in place according to the directional arrows on the paper pattern.



I basted them all down in place, and then proceeded to sew two rows of basting stitches over top of the pleats from edge to edge.



Then I gathered each bust piece to be the indicated measurement for my size. For size 38, it was 6 3/4".



Once I reached that width for both bust pieces, I knotted all the basting stitches together to hold the gathers in place until I stitched the bust pieces to the skirt.



And speaking of skirts, it's skirt time! I grabbed my front skirt piece and pinned all my pleats in place.



Then repeated the process of basting them down in place and sewing gathering stitched across my waistline.



I gathered the front skirt piece to be 13 1/2" for my size 38 and again knotted the basting threads together.
And that completes part one of my July Mash Up! Loving this dress so far, and it's been pretty simple and quick to put together. Sew-along with me and download the digital pattern here. Also check out every pattern from the July issue here in our digital preview lookbook.
Happy Sewing!