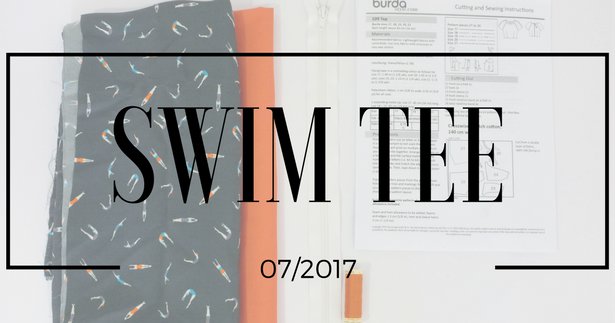 ShareThis
It was pretty tough deciding on what pattern to "Mash Up" from the 07/2017 issue. All I knew is that I needed to make something from our new Surfer Girl collection because I love sporty styles. Read on to see which pattern I'm making from the July issue and my first steps in sewing…

I went with the Cropped Tee pattern because I loved the zipper in the back and the short hemline. It is also a petite sized pattern which always fit me great!



I also knew that I just had to use this swimmer printed crepe-like fabric that I purchased a while ago. The pattern also calls for contrast piping, so I needed a pop of contrasting fabric and this bright orange canvas was perfect. I had just enough to cut the neck band and panel.



I decided to use a matching orange thread to contrast canvas fabric.



Instead of the piping detail, I wanted to incorporate more of the orange canvas so I drafted a panel mimicking the armhole curve. To draft this panel I drew a parallel curve to the armhole 1 1/3" away (using size 20 as my base).



To extract the panel, I placed tracing paper over top and traced around the panel lines, the armhole, side seam and shoulder seam. I also made sure to include the grainline!



I first cut out the panel piece in the orange canvas fabric.



Then I cut the body pieces in the swimmer fabric.



Next up were pattern markings! I traced the dart leg lines on both the front and back pieces.



The first step in sewing was the darts, so I pinned and sewed the front and back bodice darts and pressed towards center front and center back.



I then grabbed my panel pieces to attach next.



Before sewing I pinned, right sides together around the curve.



I sewed together along my seam-line at 1/2" (the amount of seam allowance I added).



Since I was using a orange thread matching to the panel I wanted to also add some decorative topstitching. So I serge-finished my allowance together, pressed towards the body of the front and stitched in place.



My front with the panels attached, I'm loving it so much already!



Close up of my topstitching and adorable printed fabric. I wish I had more of this fabric to make matching pants.



Next up are the side seams, I first serge-finished each edge so I was able to press the allowances open after I sewed.



After both side seam were sewn, it was time to attach the sleeves. So I laid my top right side open in preparation.



But first before the sleeve can be attached, it needs to be sewn along the short sleeve seam. Since it is a short seam, I pinned and sewed together first then serge-finished the allowances together and pressed towards the back sleeve.


That completes part 1 of my July Mash Up! I have a good feeling about this top, I mean my last 06/2017 Mash Up reveal was quite a show stopper.
Happy Sewing!