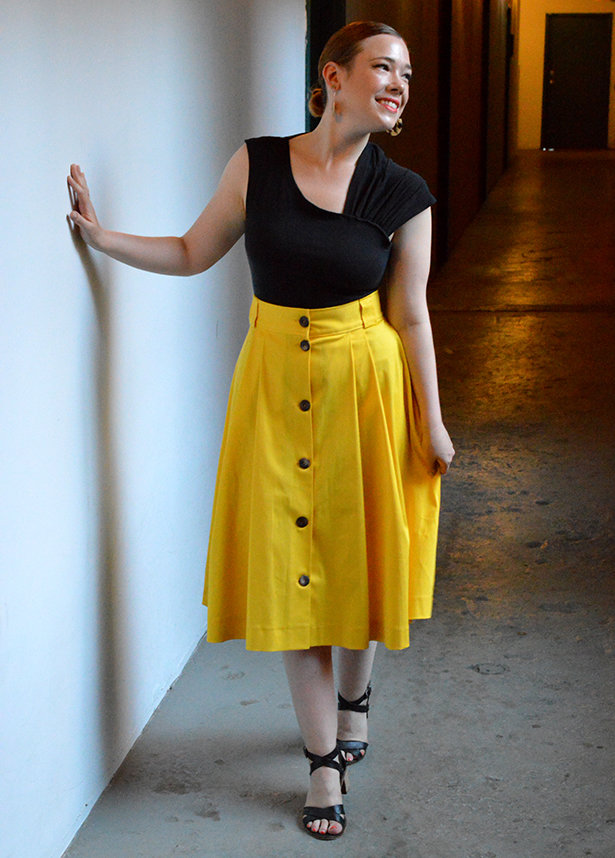 ShareThis
The high waist, pockets, and silhouette of this skirt make it a perfect choice for any sunny day! I love the vintage nod this style has and it can be easily dress up or down – here I have paired with a simple black tank that I sewed a couple years ago. Read on to see more pictures and links to the tutorial on how I made this skirt…

I was really happy with this pattern! For sizing reference I cut and sewed my usual 38 and it had a great fit both around the hips and waist – for the hemline, I didn't add any hem allowance to the paper pattern and instead just sewed a large hem that took away height from the skirt that worked well with my petite height.
Here is my finished vibrant yellow twill skirt:



The swing on this skirt is just absolute perfection!



For top pairings, I have a lot of options that I have already made this year (see below). But for this picture I wanted to dig something out I haven't worn in a while and found this tank I sewed up for a tank special in the June/July 2018 issue of Sew News magazine. I love how the black plays up the contrasting buttons on the skirt.



It's this jersey top pattern from the 02/2013 issue and I really like the asymmetric style of the different straps. I think this tank is going to be more in my current wardrobe rotation.



left: Matching Leaf Set; middle: Lingerie Top; right: Flowery T-Shirt

Wanting this year's Mash Ups to all work together for a capsule collection / wardrobe, I thought of all the tops I have made so far will all work as pairings for the skirt. All the prints I used for these tops have hints and pops of yellow!



Sunshine here I come in this skirt! I may also dress it up for the evening too and perhaps even wear it to the Toronto Sewcialst Fancy Sewcial 2019.
To sew up this skirt for yourself, why not check out my tutorial posts for each step! Click on the images below:



Now it's time to think about what pattern I'm going to sew from the July 2019 issue for my next Mash Up! Every wardrobe needs a swimsuit right? So I'm VERY excited to sew up the beautiful one-piece pattern from this issue. I love when Burda comes out with swimwear.



I'm kinda thinking a neon for this suit – what do you think?
Happy Sewing!