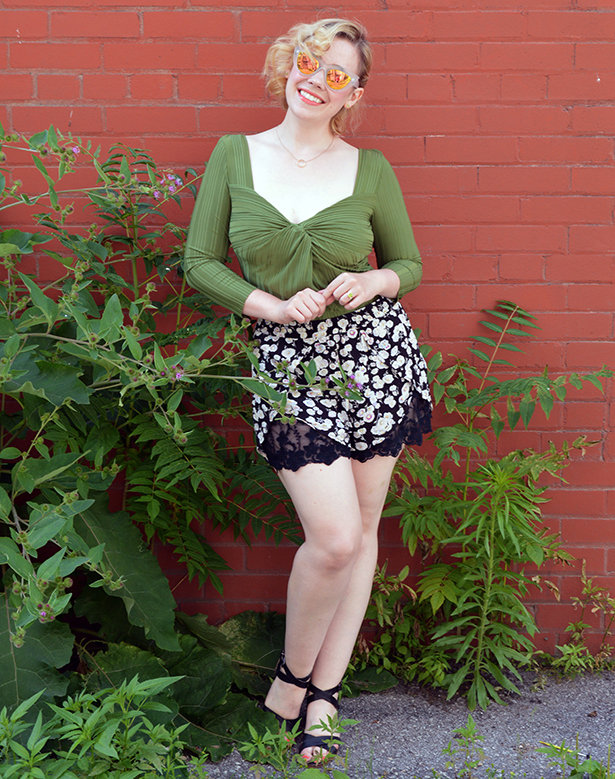 ShareThis
Very excited to debut my finished bodysuit today – and I love how you can wear it so many different ways! With jeans, shorts (like I did), skirts, or even matching wide leg stretch pants to create a faux-jumpsuit. The knot was a bit tricky to figure out in the beginning, but once it clicked everything came together so easily and I sewed up this entire bodysuit in just a couple of hours from printing the pattern to wearing the finished suit. Read on to see more pictures and links to each tutorial post…

Last week I completed sewing my bodysuit and decided to leave my leg holes un-elasticated to reduce visible panty lines when wearing under other bottoms. But when I adapt this pattern to be a one-piece swimsuit (which I hope to do soon), I'll definitely account for 3/8" elastic being sewn into these edges.
That's why I love the fact that BurdaStyle digital pattern don't have seam allowances, so where I don't want elastic, or a certain finish, I simply don't add any allowances! And when I have my elastic, it's so easy to just add my elastic width instead of calculating how much I have to take away from the pattern.



I also decided to omit the snaps at the crotch seam, and instead folded back the over/underlap and sewed my crotch seam together. For me, I hate the discomfort of the snaps more than having to take off the entire bodysuit. But if I did want a separating crotch seam, I would instead install several small hook and eyes instead of snaps.



Bodysuits are perfect for dancing around and having fun since they don't ride up. My silky jersey fabric I used is also super soft and comfy, so I know I'll be getting a lot of wear out of this suit!



The back of this pattern is super simple and sleek, and I also love the coverage of the back so it still makes it possible to wear a bra.



Still excited about my announcement from last week's post that I can't stop smiling, and I'm equally excited about how my bodysuit turned out. But with the summer heat kicking in soon, I'm going to also have to make a sleeveless version!
Convinced now to make one for yourself? Click the images below to download the digital pattern and follow the tutorial posts…



Super eager to get started on my July Mash Up, and make sure to check back on Sunday for the release of ALL the July pattern in our digital preview lookbook.
Happy Sewing!