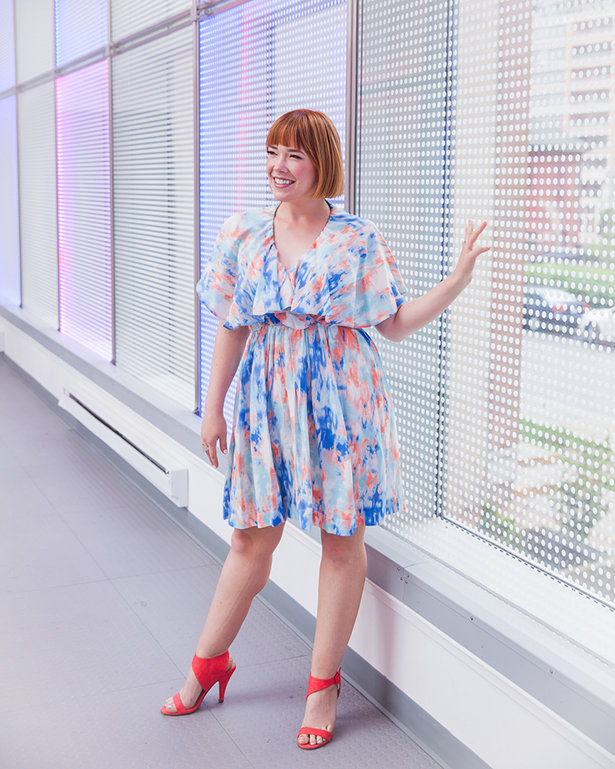 ShareThis
My dress is complete and I'm loving it! Read on to see my last steps in sewing our Flounce Dress from the 06/2017 issue and more project pictures…

In my last post I finished with installing the invisible zipper, and at this point I could have an accurate fitting so I slipped on the dress. I think I cut it a size too large since the waist was a tap bit baggy. So instead of doing major surgery on the dress I turned the dress inside out sewed elastic to the seam allowance of the waist! I stretched the elastic as I sewed so it gathered the waistline in. It worked perfectly and made the dress more comfortable to wear.



Now that I fixed the waist issue I moved onto the hem. I serge-finished the bottom edge and pressed up 1 3/4".



Then I simply topstitched the hem into place.



Since I already established that I cut too large of a size, the front crossover was a little to open for my liking. So I simply hand sewed a little snap in place to made the dress more modest.



While I had the dress on I did little dots on where I thought the snaps should go.



Then I laid my dress on the table and took in all its glory! You can really see here the elastic at the waist and how it brings it in. Now my dress was finished.



I'm so happy with how this dress turned out, and I would recommend this dress pattern to anyone who wants a fun summery dress to wear (that also protects the shoulder from the sun). See more images of my dress project here!

Create this dress for yourself and look back on part 1 & part 2 of making this dress so you can sew-along. Make just to upload your variations to the projects page and link to the pattern so I can see.

That concludes my June 2017 issue Mash Up, and we start to publish the July 2017 pattern on Monday so we'll see which pattern I Mash Up next.


Happy Sewing!
Meg