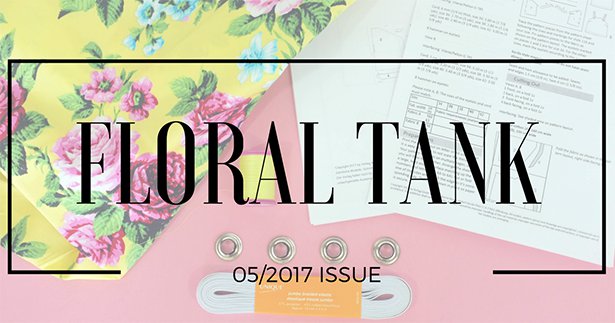 ShareThis
Very excited that the weather is finally warming up here so for my May Mash Up I wanted to pick a nice and summery pattern. This week I cut out my pattern and also drafted a little sleeve on our Tie Top pattern from the 05/2017! This is going to be a good one…
First off I want to say thank you for all the kind words and positive feed back on my last Mash Up, my Tropical Jumper. After I finished it I was still in a vibrant mood and wanted to sew something else nice and bright. So when I saw this yellow floral cotton I knew it had to be the fabric for my next Mash Up.

It also seems that I'm still not over hardware since this pattern allows me to hammer in some grommets. For the modifications to this pattern I'm going to draft a sleeve band to be attached to the top at the underarm point, see inspiration below…



images via getty

I love this trend of a sleeve band, or as I like to call it water wings! It is simple to draft and add to any tank or tube top pattern, and it can be attached to already made garments as well.



First things first, I had to tile the pattern together. For the actual pattern I did no modifications, I simply added seam allowance to size 38.



To draft the sleeve bands (or water wings, haha) I simply measured around my bicep and added 3" because I wanted a little bit of gathers on the sleeve. Then I noted to cut my elastic my arm circumference which was 12 1/2". So my sleeve band was 16 1/2" long by 6" wide.



For the facing pieces I cut and fused interfacing to the wrong sides and set aside until I needed them.



I marked my pattern pieces which included the dart legs. I used a tracing wheel and wax carbon paper in red.



I pinned in place along the dart legs and placed a perpendicular pin at my dart tip so I knew when to stop sewing and knot off.



Both of my darts sewn and pressed down towards the hem.



I serged each side seam edge of the front and back pieces and pinned together along the side seams.



Then I sewed up my side seams along my seam line.



Next I pinned the side seams of my facing pieces together.



I sewed, I pressed open and just finished the bottom edge with a serge.



I gave the side seams of my top a good press open.



With the top right side out and the facing pieces wrong side out, I pinned together and matched up the underarm points.



I made sure both my seam allowances were open to reduce bulk.



I sewed together along my top seam line.



After I sewed around the entire top edge of my garment I graded the seam allowance and clipped into the under arm to create sharper points.



Once graded, clipped, and pressed I took my top to the machine and under-stitched the allowance to the facing.



View from the inside!



Then using a hand sewing needle and thread, I stitched the bottom edge of my facing to the seam allowance of my top.



Now my facings are all sewn in place and finished. Now onto the grommets, tie bands for the straps, hem, and those water wings!


Excited to finish up and wear this top. Sew along with me and download the pattern here.
Until next time, Happy Sewing!
Meg