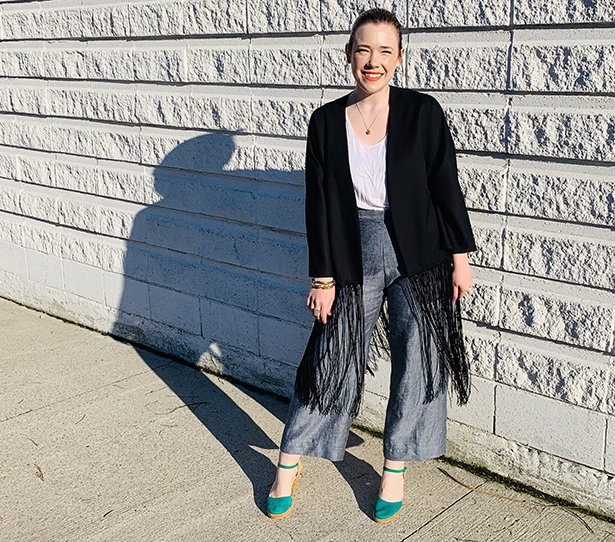 ShareThis
I love a good fringe moment – and this kimono cardigan sure delivers! This garment sewed together very quickly and I love the impact it has with the long fringe. Read on to see more pictures and what I plan on sewing for my next May Mash Up…

The pattern I used again is our Jacket with Fringe from the April 2019 issue. This piece acts as the "cardigan" garment in my capsule collection over the year which is outlined below too (with my May plan pattern too)! I sewed my classic size 38 and I love the relaxed fit.



When I was purchasing the fringe at the fabric store I was going back and fourth on which fringe length to purchase – and I'm sure glad I went with the longest!



I styled my fringed kimono with the test sew pair of pants from my last Mash Up! This pants pattern is truly my TNT (tried and trued) as I have made THREE of them. Just last week I sewed up another pair in navy. I do lovse this denim pair though and how it contrast with the dark fringe.



My spring/summer 2019 vibe is comfort. I decided I just want to be comfortable this summer and wear a lot of wide leg pants, flowing top and dresses most of the time. Except on special occasions I break out this top which is surprisingly VERY comfortable. Overall I'm quite happy with this fringe kimono, and if you want to see more images you can see the project here.
Want to sew one for yourself? Click the image below to check out the tutorial post:



I already have the 05/2019 issue preview (all patterns go live on May 1st!) so I picked out the wrap dress pattern in the issue to include into my capsule collection:



I'm thinking of picking up some green jersey to make it in to blend in with the color and fabric scheme which you can see in my last reveal post. Can't wait to get started!
Happy Sewing!