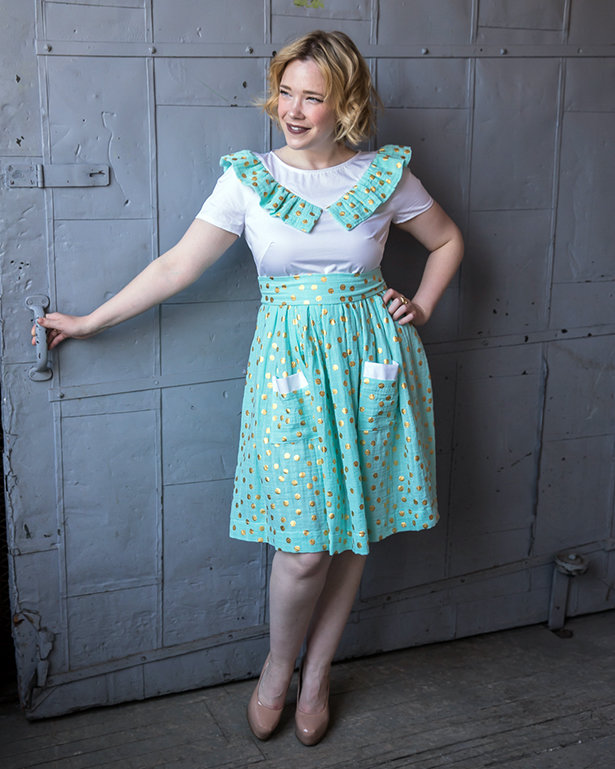 ShareThis
This week I complete the finishing touches to my Ruffle Dress including the hems and neckline bias. I also threw on the final dress for some photos and I'm so thrilled how it turned out – I will admit after last week's serger mishap I was so close to giving in scraping the dress for a whole new one. I'm so glad I "made it work" because I find the dress quite sweet and fun to wear – high tea here I come!

To finish the neckline of my dress, I first pressed my bias strip in half widthwise with the the wrong sides together.



I then pinned to my neckline wrapping some excess around the center back zipper tapes. I stitched together at my seam allowance and then trimmed and graded the seam especially around the corner with the zipper.



To finish and secure my bias I flipped and pressed the tape inside my dress and topstitched from the right side.



I made sure to start and stop my backstitching right to the edge of the zipper tape so it wasn't visible.



Love how the back looks with the zipper!



Lastly the hems – I serged the bottom edge of my dress and then pressed up 2" and top stitched in place.



Then for the sleeves, I kept it simple. I serged around the edge, pressed up 1/2" and topstitching in place.



Now my dress is complete!



This dress is so fun and feminine – and I absolutely love the mint and gold (buy it here)! I'm actually quite happy with the belted bow, so just goes to show you sometimes mishaps are for the better.



I also want to try styling the dress like in the pattern photography with some little sneakers. But for now all I want to do is twirl in this dress and perhaps even wear it to the early Royal Wedding viewing party I'm going to.
Want to sew this dress for yourself? Click the images below to see my tutorial posts:



Now I have the very tough decision of flipping through the May 2018 issue (which is now easy to do with our digital preview lookbook!) to decide which pattern I will be "Mashing Up" next! I'm also open to pattern suggestions…
Happy Sewing!