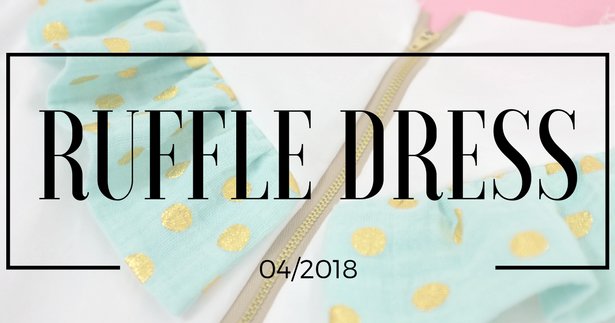 ShareThis
This week I pleat, gather, and attach the skirt to my bodice and while doing so I had an accident and created a hole right in the middle of my garment! Not to worry, I found a perfect solution and I'm so close now to finishing my ruffle dress.

Last week in part 2 I finished up sewing up the bodice including the ruffle and yoke. Now it is time to assemble and attach the skirt! First was to sew the pockets, so I grabbed pieces d & c.



First I pressed piece d in half widthwise with the wrong sides together and pinned to the top of piece c.



Then I stitched together, serge-finished the seam allowances together and press downwards towards.



Before sewing the pocket to the skirt, I serged all around the pocket edges.



I pressed the serging tails at the top of the pocket down, and continued to press the bottom and side edges in about 3/8" to the wrong side.



Since I omitted the front panel on my skirt, the pocket placement lines were not on the under front, so I wanted to pleat my skirt piece before I placed my pockets on. To mark my pleats, I simply clipped into the top of my skirt at the pleat marks.



Then I pinned my pleats according to the direction on the pattern.



After I basted my pleats in place with my sewing machine, I help my front skirt up to my body in the mirror and played around with my pocket placement – and when I found the perfect placement I securely pinned both of my pockets to my skirt and topstitched in place.



Now that my pockets were sewn on, I serge-finished the side seams before sewing to the back skirt so I could press my seam allowances open to reduce bulk. Especially since the entire top of my skirt was also going to be gathered on top of the pleats.



For the back skirt, I did was pin and baste my pleats into place and then serge-finish the side seams. I then pinned my side seams, right sides together to attach my front and back skirts.



I stitched together and then pressed my seam allowances open.



Once both my side seams were sewn and pressed open, I switched my machine to a high stitch length and sewed two rows of basting stitches along my waistline over my pleats.



In order to have an even gather throughout, I pinned all my "land marks" as I call them. I pinned the side seams, the center front and the center backs.



Then to gather the skirt to match my bodice width, I pulled the bobbin threads and evenly distributed the gathers. I worked from each center back to the center to risk my thread breaking!



Once my gathers were perfect and all pinned down, I took to my sewing machine making sure to switch my stitch length back to regular and sewed my waistline seam.
Ok now this is where things got ugly and tears were shed – I serge-finished my waistline seam allowances all together and I didn't notice a little fold in fabric from the bodice caught under my serger knife and cut a slice out of the middle of my bodice!



With no scrap fabric left – since I actually cut the first bodice out of scrap white cotton, I knew I had to make it work! So I decided to run my sewing machine over the hole again and again to prevent the hole from getting bigger in matching thread, and since I had more mint fabric I cut sash to go over my waist seam to hide this patch (more on that below).



After I got over that hurtle, I decided to sew in the center back zipper. I pinned each zipper tape to the center back seam – which I first serged VERY carefully, haha



Since I wanted my zipper to be exposed, I actually didn't switch to my zipper foot and instead use my regular foot to have a consistent space between my zipper teeth and seam.



Ta da! Zipper done, and the key is to make sure that the back ruffles match up nicely on either side of the zipper.



Now back to my mistake… I cut a long piece of fabric 6" wide and sewed together to make a 3" wide or so finished band. I placed on my dress over my waistline and pinned at my side seams which I later hand stitch in place.



I left the band just stitched at my side seams, so once my dress was on and zipped up I could tie in a bow! Nothing to hide under there…
Now just to finished the sleeve and dress hems, and sew on the neckline bias. I'll finish this up soon and next week I'll debut this dress done and photographed. Did you sew this dress pattern? If so, make sure to post to the projects section linking to the pattern so I can see and include in my next week's post.
Happy Sewing!