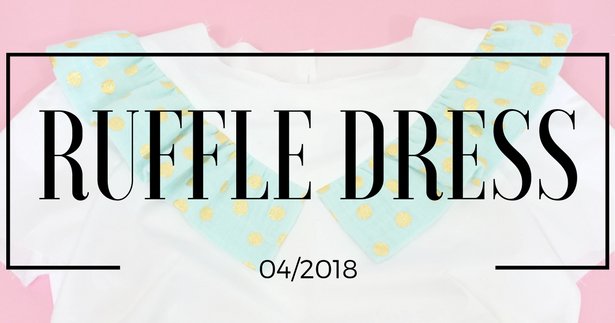 ShareThis
My ruffled collar dress is coming along great and this week I focussed on finishing up the bodice. Read on to see my next sewing steps…

Last week I assembled the bodice to the point of the ruffle insertion, and the first step to make the ruffle was to finish the short edges. On each short ruffle edge, I pinned the allowances right sides together with the fold at the bottom.



I stitched together and trimmed the corner – then flipped to the right side and pressed.



To gather the top long and unfinished edges of the ruffle, I switched my stitch length to baste…



… and basted two rows inside my top seam allowance.



I pulled the bobbin threads of my basting stitched to gather in. I always like to gather from each edge to the middle to reduce the risk of my bobbin threads snapping and loosing all my gathers.



Then I repeated this process for my other ruffle.



To attach the ruffles to the bodice, I first pinned each finished short edge to the front V and 1/2" away from the back to account for the seam allowance. I also matching up the midpoint of the ruffle piece with the shoulder seam of the bodice.



Then I evenly spread out the gathered and pinned everything in place.



Next I basted to the bodice edge INSIDE of my seam allowance since I still have to attach the top yoke.



I made sure my ruffles nicely met in the front V of my bodice – love this so far!



Now it was time to assemble the top bodice yoke, and I first pinned the shoulder seams right sides together.



I stitched together and pressed my seam allowances open to reduce bulk. I also serge-finished each shoulder seam separately before sewing.



Next I pinned my sewn yoke to my lower bodice sandwiching my ruffle in between.



Then stitched together, pivoting carefully at my center front V, and serge-finishing all my allowance together.



Now this is the point where I was thinking of adding a little gold button – then all I could think of was Sailor Moon, so I decided not to.



At this point I also serge-finished my sleeve hem edge to prevent fraying while I attached the skirt section of my dress.



Here is also the back view of my dress!
That completes part 2 of my April dress Mash Up, and if you want to sew along with me make sure to download the pattern here and also check out my part 1 post.
Happy Sewing!