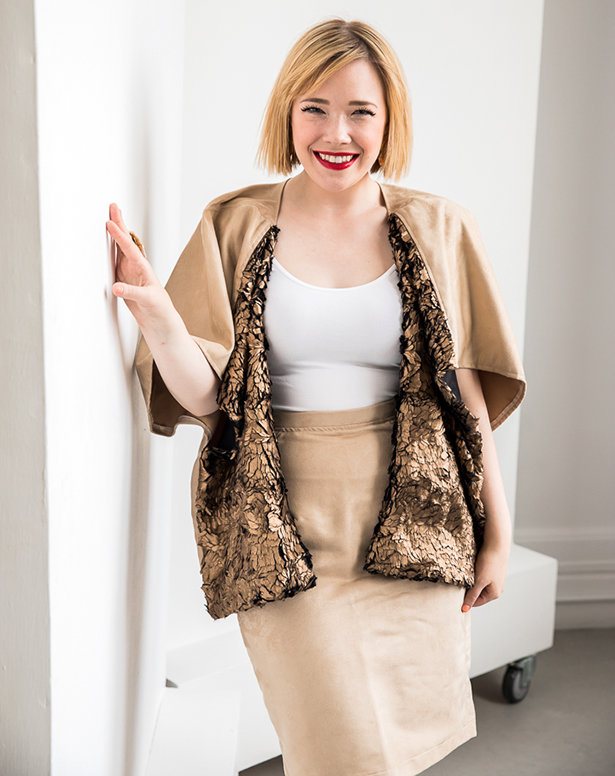 ShareThis
This month's Mash Up I decided to sew up two garments instead of one – a "cardigan" and a pencil skirt to make a chic faux suede & fur outfit. I love the end result and how the fabrics look together, just need a swanky occasion to wear this to. Read on to see more images and a member variation!

When my cardigan was complete I did all my hand stitching attaching the fur edges to the insides of the garment.
For the pattern I used again for this look:



Our Open Cardigan pattern that was meant to be sewn in a knit fabric. I took a chance and sewed it in a micro faux suede – which had no stretch – so I had to a little bit of tweaking after the fact. You can see here how I altered the neckline to achieve a better drape.



For the matching skirt I used our Narrow Skirt pattern. This skirt was a really great fit and worked well sewn in my faux suede and the only alteration I did for this skirt was to omit the back walking vent – making it shorter, and adding in a center back full length exposed zipper. See how I sewed together the skirt here.



This outfit is really fun to wear! For the hem, once wearing this outfit all together the balance of the look was off by the cardigan being a little to long and it shortened me already than I already am. I decided to bring up the entire hem 2" and I know this defeats the purpose of me placing the hem edge on the selvedge of the fabric for a decorative element that I didn't have to hem – but I'm still happy with the result and my sewing practice sometimes is a little "wing it" and "make it work!"



My favorite part is how the woven faux suede creates "point like" shoulders for a chic silhouette. It is like I'm wearing a fancy cape but with sleeves.
To see how I sewed these pieces together, click on the image below to view the tutorial posts:



Power member Ellen Hatteland also sewed up the Narrow Skirt pattern I used and I love her floral version! See her project here.



The fur fabric I used for this Mash Up was from Shannon Fabrics, and they also sent me some platinum silver! So in honor of National Serger Month, I decided to use the silver faux fur to make a skirt ONLY using a serger. Check it out here. Really obsessed with this fabric lately as it has all the things I love – texture, metallic notes, uniqueness and stretch.
Tomorrow in our BurdaChallenge2018 March round up post I'll be debuting which pattern I'm "Mashing Up" from the 04/2018 issue.
Happy Sewing!