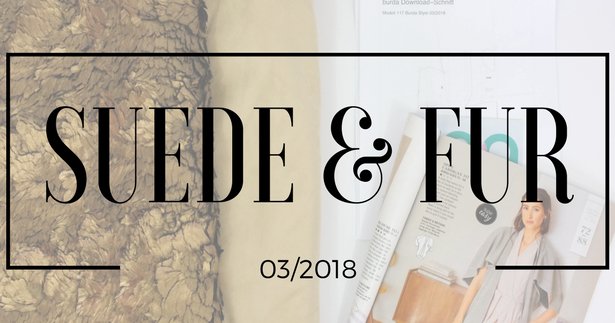 ShareThis
My February Mash Up was such a success, and I'm so excited to jump into my March Mash Up! It took me a while to flip through the 03/2018 issue and determine what I wanted to make, and I narrowed down three patterns from this issue that I wanted to sew in our Burda Challenge February Round Up post here, but last minute I had a change of heart on which pattern I planned for my Mash Up.
So I planned to actually "Mash Up" our recently posted Swing Gathered Dress pattern, but as I was about to start I didn't have big plans for it. I'm still going to make it because I love the playful silhouette and neck tie, I just wanted to sew it as is. Then I kept looking at my fabric stash and the open cardigan #117 pattern from the March issue, and I became obsessed with the idea of sewing it with some metallic faux fur.

I had two colorways I was going back and fourth on – I had a gold metallic fur and a silver, so I took to instagram stories and created a poll to help me decide. 58% of your liked the gold version paired with faux suede, so I went with it. Follow me on Instagram here to help me decide on future fabric decisions!



In every issue there is that one pattern and I instantly know I have to make, and this open cardigan was it from the 03/2018 issue. It is sewn in the magazine in a comfy knit, but for my Mash Up I wanted to elevate it to be not just a loungewear cardigan – but a fashion statement. The digital pattern of this style will be avaliable for download in our next pattern collection release on Monday March 12th.



THEN what I want to make next for a two-part March Mash Up, is to sew a matching suede skirt using the style #103B from the 03/2018 issue! I'll be sewing up and making a tutorial on the skirt after I finish the fur and suede cardigan. Just thinking about this outfit makes me so excited, and actually channels Kim K a little bit if I pair with a sleek white or black tank and strapy shoes.



So first things first, the cardigan. I'm going with both Shannon Fabric's faux suede and their metallic glam gold cuddle minky for the two panels on this pattern. The metallic fabric has some stretch in it – whereas the suede does not, but I think it will still work together because of the minimal seams and I love the thrill of the risk.
I first tiled together the pattern and added 1/2" seam allowance to the smallest size 72. Now this is a tall sized pattern so I also cropped 2" off the hemline as I didn't want it to be too large on my short frame.



The metallic fabric actually had this cool black border along the bottom, and since this type of fabric can be difficult to "hem" I decided to utilize this selvedge finished edge as the hem. So I aligned the hemline of the pattern exactly with the bottom edge of the fabric and cut out.



Then I cut out the back piece from the suede and added hem allowance to the bottom since the front panel was aligned directly with the fabric's finished edge. I couldn't do the same with the suede since this fabric does fray.



Step one was to sew the center back seam, so I first serge-finished the back edges to prevent fraying.



I then pinned together the center back edges with serging from the neckline to the hem.



To sew the first seam together I changed my sewing machine needle to a leather needle in size 90/14.



And since I love topstitched suede, I finger pressed the center back seam allowance open and stitched on either side.



My back seam! So far so good. Now since my sewing machine foot is a brushed metal, it didn't "stick" to the suede – but if I had a shiny metal foot it would and then I would opt for either a walking foot or a teflon foot.



Next was to attach the front panels to the back along seam #1. Note: this is in a different order than in the instructions, I just like to sew it in the order I think is best for my fabric and way I like to finish things. Sometimes I don't even look at the construction steps and just go with the flow and use the small numbered seams to out everything together.



I pinned the front panels to the back, right sides together…



… And sewed together. Now, I lengthened my stitch length because of the stretch in the metallic fur and also lightened the pressure of my foot and that actually made these two fabrics sew together quite easily!



Then I serged my allowances together to finished the edge.



To finish the seam I finger pressed the allowance towards the suede side and topstitched in place.



Ta da! I repeated for the other panel in the same manor.
That completes part 1 of my March Mash Up! Stay tuned for next week where I almost complete this cardigan and then move along to the matching skirt to make a fancy metallic fur and suede look. Super excited.
Happy Sewing!
Meg