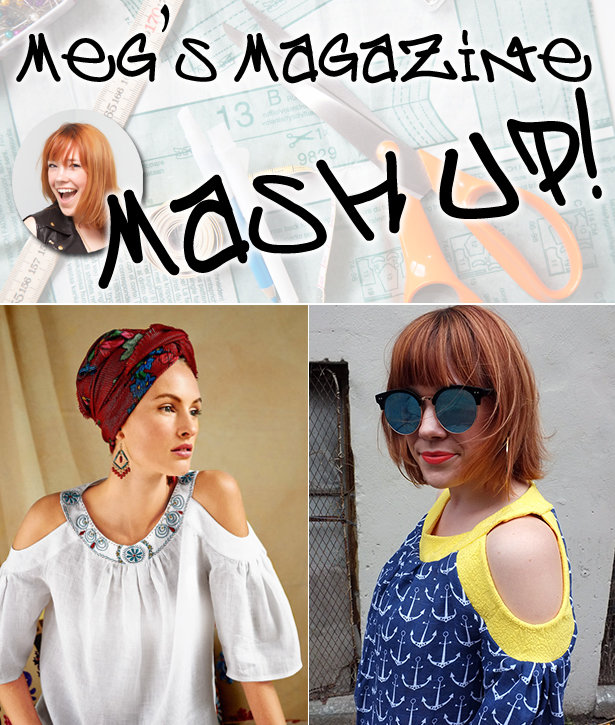 ShareThis
I waited for the rain to clear and went outside in my completed Mash Up top of our Embroidered Cold Shoulder Blouse. Click to see more images and what else I have been working on…
Last week I posted about sewing this top and it came all together smoothly. The bands fit around my neck and shoulders well and I like the silhouette that both the gathers and pleats create on the sleeves and bodice.


I would totally sew this pattern again but in dress form! I love the cold shoulder cut outs, but I think I would eliminate some of the fullness for a dress variation.




Instead of sewing buttons along the entire neck band I just decided to add them to the back. I can always wear it like this for the season and later on add more detail and embellishments. This is going to be a great top to wear for the Spring and Summer since the fabric is nice and breezy. I used Shannon Fabric's Embrace Anchor Cobalt and a stretch brocade for the bands.




With the end of one Mash Up always comes another, because I'm determined to not miss a month and sew a pattern from every issue. For April I'm wanting to make this jumper type pattern, it is #115 and comes in petite sizes! We actually don't have the digital pattern released on BurdaStyle.com yet, but it will be soon. Super into jumpers right now and really excited to go fabric shopping for this project tomorrow. I won't have an update on sewing or starting this Mash Up until two weeks from now because I'll be in studio all next week filming


I thought I would also share what I have been up to lately in terms of other and special projects.
First off, my cousin came over yesterday and brought her wedding dress! It is absolutely gorgeous and does need some minor alterations that I'm helping with. It is all tulle with beading and I'm also making a nude slip to go underneath (of course I'm going to blog about it). She is getting married in Ireland in August and I'm so excited to go and need to start thinking about what I'll make to wear.
Secondly, I started and finished sewing these denim shorts with patterned pockets using this pattern. I have been sewing up a storm lately in preparation for filming a special new course in studio next week! Stay tuned for the details because this is like no other course we have done before.
Lastly, I recently got my Apr/May 2017 Sew News Magazine that includes my latest Pattern Play column. I have loved doing these and will continue to in all upcoming issues.
Happy Sewing!
Meg