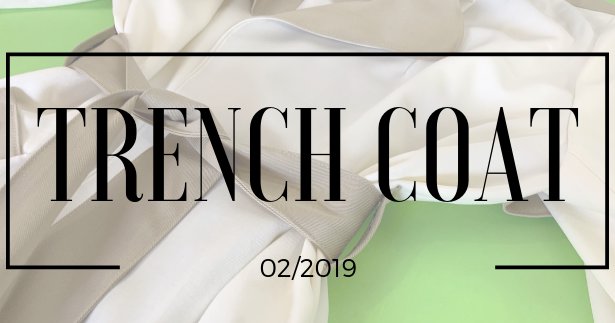 ShareThis
This week I finished sewing my trench coat! This has been a fun project to immerse me back into sewing after a short break, and I can't wait to move along to my March Mash Up project. Read on to see my final steps in sewing this coat including the sleeve, belt loop, and belt…

I ended part 2 with topstitching the front edges and hem, so now it's time to move onto the sleeves! I grabbed both my sleeve pieces to get started and serge-finished down each sleeve seam.



I first pinned one of the sleeve seams right sides together…



…then stitched and pressed my seam allowances open.



Then I pinned and stitched my other sleeve seam together.



While I was at my sewing machine I also basted two rows of stitching in-between the ease notched indicated on the pattern leaving long bobbin thread tails.



Then I grabbed my trench coat and starting to pin my sleeve to my coat starting at the underarm point, right sides together.



Note the underarm point on the sleeve is a notch and not the seam!



Then I grabbed my trench's shoulder seam and matched it with my top notch of the sleeve.



I used a lot of pins in-between my ease notched and slightly pulled my bobbin thread to match the curves. This sleeve pattern eased very well into my armhole.



Next was to press up each sleeve hem allowance, and then I stitched it into place to match my trench hem stitching.



Then I hand stitched my facings to my shoulder and center back seams.



Now it was time for the belt loops! I first cut out some interfacing and fused it to the wrong side.



I pressed in each edge to the center of the wrong side (so they meet) and then topstitched around the edged pivoting at the corners to stitch down each side.



To have two belt loops, I folded the piece in half and cut. I also pressed under each top and bottom edge to the wrong side.



To mark my belt loops on my trench coat, I used pins at each of the notches along the side seams.



From the right side, seeing my pin markings I place my pressed under belt loops centered over the pins.



Then I stitched each belt loop edge in place from the right side.



For the belt, I pinned the center back seam right sides together and stitched in place.



Then I pressed in the seam allowance edges around the entire belt and pinned the pressed edges together pressing the entire belt in half wrongs sides together. Starting at the center back seam, I topstitched around the entire belt about 1/4" away from the edges.



Starting at the back of the trench coat, I threaded the belt through the loops…



…and tied it in a pretty knot at the front!



I'm liking how this trench coat turned out and especially how the ivory and beige look together. I even sewed up a matching ivory turtleneck to wear underneath. Can't wait to photograph this project to debut to you all next week, and I'll also reveal which pattern from the 03/2019 issue.
Sew along and download the coat pattern here.
Happy Sewing!