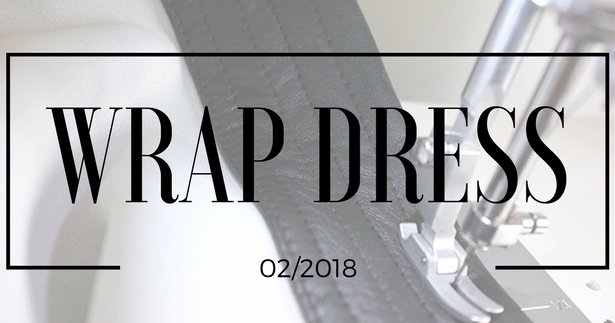 ShareThis
This week I focused on sewing together the skirt section of my dress and attached one of the faux leather panels with lots of topstitching! I love how this dress pattern is coming together and I can't wait to wear it.

Last week I finished up constructing the bodice, and again I'm sewing pattern #103 from the 02/2018 issue. It will available for digital download this coming Monday in our new pattern collection release.



The skirt pieces are a bit confusing, so to make sure I didn't mix anything up I labelled each piece on the right side. Piece #8 is the right front that the contrast band is attached to, and piece #11 is the left front under lap piece.



I first stitched the back darts in the back skirt piece #3, and then carefully pinned the side seams, right sides together, making sure I had the right and left front skirt pieces on the correct sides.



Once my side seams were sewn I serge-finished the allowances together and pressed towards the back.



At this point I actually serge-finished the bottom hem edge to prevent further fraying (my fabric is really fray-ey?).



Then before the front skirt leather band is attached, the hem needs to be finished. So I pinned up and pressed my hem allowance in place.



I topstitched the hem in place from the right side.



With the hem finished, I folded up the hem allowance of my band piece and perfectly aligned with the hem of my skirt and pinned along the front edge from hem to waist WRONG side to RIGHT side.



After I stitched along my seamline to attach the band to the skirt, I trimmed the seam allowances to reduce bulk.



To finish the front band, I finger pressed the band along the middle fold line and then turned the other edge's allowance to the wrong side. I then pinned the edge just to cover the front band attachment seam.



Since I was using faux leather, and the pin holes can be visible, I made sure to pin right where my topstitching would be so the holes would be covered.



I switched my thread to black topstitching thread and to a leather sewing machine needle and topstitched close to the edge.



To create the quilted took, I pivoted at the hem and waistline to stitched multiple lines.



My finished topstitched front band! I love the white and black faux leather.



Now before the skirt gets attached to the bodice, I first finished the other front edge of skirt piece #11. I serge-finished the front edge, pressed the allowance to the wrong side, and then topstitched in place.
That concludes part 2! Check out part 1 here to see my first sewing steps, and next week I move onto attaching the skirt to the bodice and setting in the sleeves.
Happy Sewing!
Meg