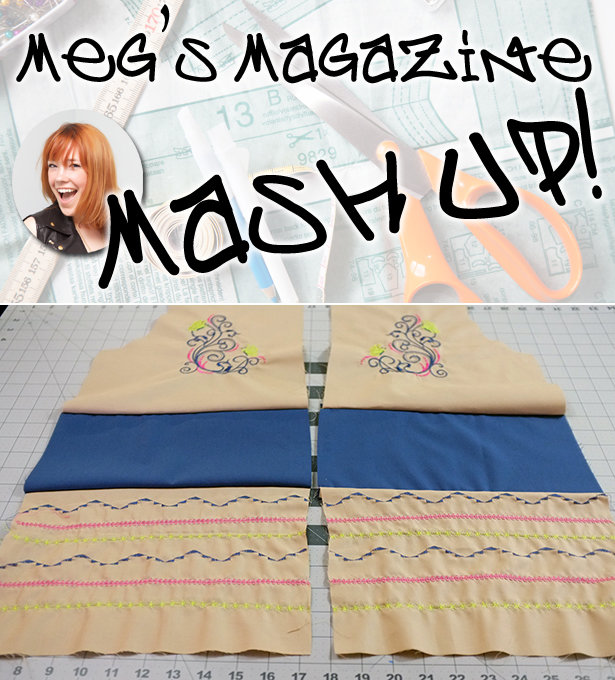 ShareThis
Hi BurdaStylers! I made some great progress on my embroidered shift dress for my latest Mash Up. This week I finished up all the decorative stitching and assembled the front and back dress pieces. Read on to see…
Last week I cut out my dress and tested out my decorative stitching. I'm using our Safari Shift Dress pattern from the 02/2017 issue.
On the upper back beige pieces I decided to embroider a motif using the same thread colors as my decorative stitching.
After the embroidery was complete I had to trim my threads!
Next I sewed together all my back panel pieces, next up was the blue back mid section.
I sewed together at the 1/2" seam allowance I added to the pattern.
It is always tricky to decide which thread color to use when you are sewing two different fabric colors together. I decided to go with beige.
On the back beige pieces that were embroidered, I did the stitching over the edges so they would line up when the pieces were sewn together with the zipper.
I cut the threads in between to separate the pieces.
My back dress so far!
Once all the seams were sewn I took the allowances to the serger.
Now for the front. I first marked my bust darts with a tracing wheel and paper.
First is to always pin and sew the darts. I always place a cross pin at the dart tip so I know when to stop sewing.
My sewn front darts nice and pressed downwards.
I got the next piece to be sewn to my front bodice. I kept the pattern pieces pinned right up until I sewed them so I wouldn't mix any up.
Now for the blue front piece.
Once all my front sections were sewn I serged to finish all the allowances together.
I placed and pinned the shoulder seams right sides together.
The sewed and pressed the seam allowance open. I didn't finished the allowance edges since a combined facing would conceal the seam.
I grabbed my facing pieces and cut them out of interfacing.
The front facing piece.
I fused the interfacing and pinned the shoulder seams together.
After I sewed the facing seams together I again pressed the seam allowances open.
Next week I'll sew in the combined facing as well as the inseam pockets! Sew along with me and download the pattern here
Happy Sewing!
Meg