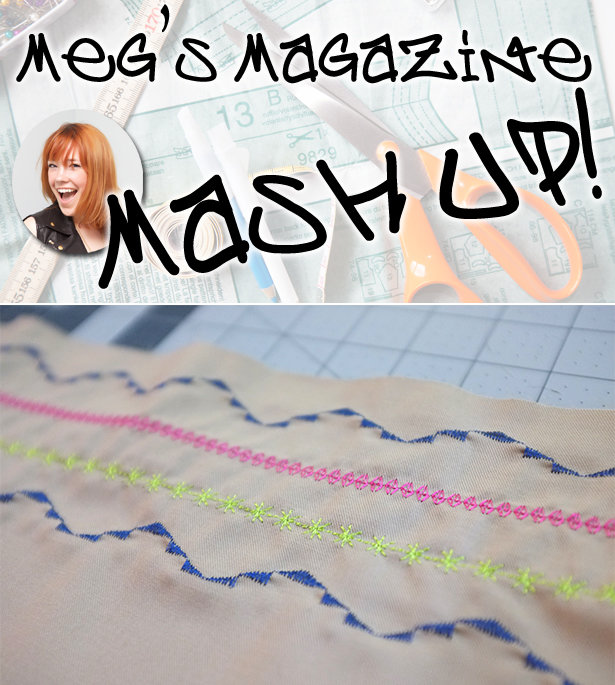 ShareThis
Hi BurdaStylers! Last week I revealed my January 2017 Mash Up and also picked my next Mash Up pattern which I started on this week! It is going to be a lot of work initially to get all the pieces embroidered, but will totally be worth it in the end. Read on to see my pattern alteration, cutting out, and decorative stitching steps…
Here again is my plan and sketch for this Mash Up. I'm using our Safari Shift Dress pattern and plan to alternate fabrics with each panel and do some decorative stitches. Don't you just love our new full-figured drawing template as well? Download yours here.
Step one for BurdaStyle digital sewing patterns is to always tile together! I actually find it calming (the calm before the storm, haha), I put on some music and just match and tape away. Anyone else with me on this?
Some patterns you don't actually have to tape every page together, if one piece is contained in a section of pages just leave it! That was the case with this sewing pattern with all the panel pieces and all.
Since I was cutting all the panel pieces in alternating colors I thought it would be helpful to label them as well. I labeled them either front or back (reference the cutting out section within the pattern instructions) and then which color I was going to cut it in as well as the positioning of the piece within the garment. I labeled both the front and back pieces 1 – 4, with 4 being at the top.
I noticed for this pattern there was only a neckline facing and the armhole was meant to be finished with bias strips. I wanted a combined neckline/armhole facing so I decided to draft my own! But first before I drafted it I needed to determine which size I wanted to make. I went with size 38 for the width of the dress and then used the shoulder line for size 34 which I often do. Do this for yourself if you find you have to take in the shoulder seams a lot as an alteration.
To draft the facing I measured down along the side seam 2" and drew a nice curve blending into the front V-neckline. Make sure you go above the bust mound for these facings.
I drew a similar facing on the back.
I then added my seam allowance to all the pieces, and I do this before I trace/extract the facing so I won't have to add the seam allowance to the facing pieces again. I added 1/2" all around.
To extract the facing pieces I laid tracing paper over top and traced around the neckline, shoulder, armhole, side seam and then the facing line.
… And repeated for the front.
I arranged all the panel pieces with the seam allowance to see if everything looked good and accurate before I cut out of fabric.
To determine a nice length for the dress, I lightly taped the pieces together along the seam lines and put up against myself.
I found I actually had to trim 3/4" off the hem to both the front and back bottom pieces.
Now it was time to take these pieces to fabric! I laid out and cut all my beige pieces…
… And then my blue pieces.
Before I dove right into all the decorative stitches I wanted to do some more tests with the actual thread colors on the fabric.
I tested out various stitches in the thread colors.
Tested even more!
I decided on a grouping of three of the stiches and proceeded to grab my first beige pieces. I started with the front.
First was a stitch of blue, then pink, and then green.
And repeat!
I have my first section complete. Now for all the others before I even start sewing this dress together.
Really excited to sew this dress! Sew along with my and make your own variation just download the pattern here. Just make sure to upload your complete dress project to the projects page and link back to the patterns so I can find it to include in my reveal post.
Happy Sewing!
Meg