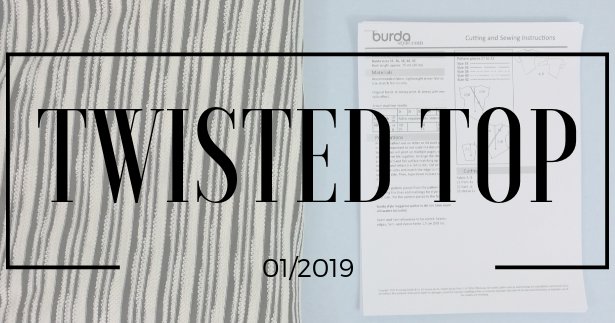 ShareThis
This one took me a while to put up, as during the beginning of January I was very busy wrapping up the latest session of our Certification Course and prepping to film a couple of sew-alongs for BurdaStyle academy! I'm back home now and catching up on regular sewing and blogging. So speaking of regular scheduled sewing… it's time for my January 2019 Mash Up! My first one of the new year, and I kicked it off with a super easy pattern that sewed up quickly and fits into my wearable capsule collection that I'm creating over the year. Read on to see the pattern and my plan for the year.

To kick start my 2019 Mash Ups, I decided to make this twisted top that has an A & B version. Burda often does this style and I love the draping effect that the asymmetrical hem has – and a nice long sleeve top is always a great wardrobe staple, especially here in Canada.



Above is my plan for the year to build a cohesive wearable capsule collection throughout the year that I build and sew upon with each Mash Up. Each month I'll fill in a slot and use complimentary fabrics to sew each garment – I talked about this plan in Episode 4 of Sew & Tell. I already have a preview of the February issue, and there's a trench coat in there that I think I'll make.



This is my working color/fabric palette, but I need to find a bright print to bring it all together! I'm thinking this one from Spoonflower.



For the long sleeve top I wanted something a little cozy, and definitely stretchy. I picked up some of this striped knit that I knew I wanted to use for this garment.



The "wrong" side had this lovely texture to it, so I decided to use it as my right side!



This pattern only had three pieces (love that!) and the front and back were cut 1 right side up. Then for the sleeves I switched up the striped so then went across the sleeve horizontally.



The first step is to sew the shoulder seams, so I pinned them right sides together.



To stabilize the shoulder seams since this fabric was pretty stretchy I used a bit of twill tape over the seam.



And I just serged the twill right in with my seam!



I serged my twill tape on the back side of my top.



Then I repeated for my other shoulder seam.



There are very few seams in this top, since i'm already at the sleeve! I opened my shoulder seam and matched up my sleeve with the notches being in the front.



Then I pinned and stitching right sides together.



Once the sleeve was serged into place, I pinned both my sleeve and side seams as one continuous seam matching up the underarm point.



I repeated for the other side/sleeve seam and now it's time for finishing the neckline. I wanted to elasticate this neckline so it didn't roll outwards, so I starting to pin my elastic at my shoulder seam.



As I serged my neckline I only slightly stretched just my elastic to create the snug neckline.



Then once serged, I flipped my elastic again to the wrong side and pinned down in preparation for my topstitching.



I took my top to my coverstich machine and stitched my elastic down in place from the right side.



Then while I was at my coverstitch machine I also finished the hem and sleeve hems.



Always love when I dig out my coverstitch machine to finish edges!



I love the hemline! When wearing it creates a beautiful shape on the body that is both chic and comfy. With this stretchy fabric, I still cut and sewed a size 38.



I also love the different stripe direction I cut for the sleeves. Overall this top turned out great and I know I will get a lot of wear out of it, and the best part is that it sewed together so quickly which was key for my insanely busy January.
Stay tuned next week for my reveal!
Happy Sewing!