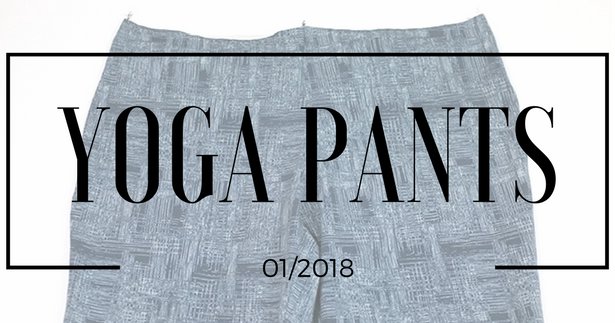 ShareThis
The year is off to a great start so far! Last week I started sewing my January Mash Up and we joined the Burda Challenge 2018, so I think this year will be my biggest sewing year yet! I'll be sewing my Mash Up every month PLUS at least 1 other garment using a BurdaStyle magazine pattern. But back to my current make, these footed leggings! Read on to see my next steps in constructing these cool and comfortable yoga pants…

Again I'm sewing up our Footed Leggings from the 01/2018 issue of BurdaStyle magazine. Last week I did my pattern modifications (reduced the length) and cut it out using different jersey fabrics for the legs and waistband.



Once the foot pieces were finished and stitched on the top edge I pinned in place, right sides together, with the front legging at the notches.



Do for both!



To hold the foot pieces in place I basted them down along the sides using my stretch thread and within the seam allowance.



Now it was time to take the focus off the foot pieces and pin together the side seams starting at the waistline. I had the back leg pieces (with finished hems), right sides together and down on the front pieces (with basted foot pieces).



While pinning, when I reached the foot piece, I butted the two finished edges right together and pinned in place.



I could now break out my serger and I serge-finished the side seams together making sure to be careful around the foot piece to make sure both edges were serged close together (the baste stitch really helped with that)!



My serged side seams!



Now it was time to sew the inseams together, so I shifted the other edge of my back piece to match the inseam of the front and made sure again the edges were right together.



I then serged my inseams together, so both my legging legs seams were now sewn!



Now that all the leg seams were sewn it was time to serge together the crotch seam. I flipped one leg right side out and inserted into the other leg first matching up the crotch point. Then I serged together starting at the front waistline.



Then I flipped the leggigs right side out and they were ready for a fitting before I tried the waistband on (I did have the adjust the back crotch seam a bit to bring it in – for my sway back).



Here is the view of the foot with the finished foot opening!


That completes part 2, and next week I'll finished these leggings up and install the criss cross waistband (my favorite part)
I even saw Saturday Night Stitch on her instagram is sewing these footed leggings for her Burda Challenge 2018!
Happy Sewing!
Meg