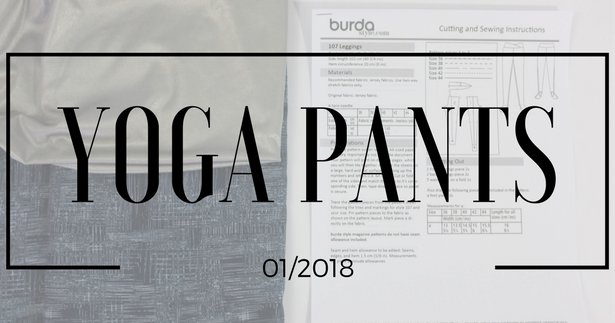 ShareThis
I ended 2017 with a fuzzy warm sweater and I want to kick off the new year with something just as comfy, which is why I knew right away I wanted to sew something from our Time to Relax yoga collection. Read on to see which pattern I picked and my first steps in sewing…

The integrated foot pieces really made me choose this pattern, and I also loved the high waist crossover waistband. Last year I started with an athletic pants project from the 01/2017 issue, and last year was a great sewing year for me – so let's see if these yoga pants can kick start my 2018 sewing. Espeically with the Burda Challenge 2018 also going on!



To make these yoga footed leggings I needed some stretch fabric. Since it has been so cold here, and I feel like I don't want to leave the house, I decided to look to my stash for suitable fabric. I'm also in studio organization mode, so it is always nice to use what you already have. So I was thrilled to find a bunch of this blue Art Gallery printed jersey and a bit of shimmering silver jersey for the contrast waistband and feet pieces.



My jersey was all leftover from our Knit Maxi Dress Sew-Along! I already have a maxi dress and top in this printed jersey, so a pair of stretch pants will be a nice addition. I was also thinking for the top version of the dress I made, I could remove the peplum and it will be like a matching yoga top to my pants.



The first step was to tile together the pattern and do any alterations. Since I'm petite, and these pants are regular sized, I had to reduce some of the length in the legs. I located the knee notches and connected them with a straight line perpendicular to the grainline. I'm sewing a size 38 for these. For bottoms I would usually sew a size 40, but the jersey fabric I'm using is quite stretchy.



I drew two lines, each 1/2" away from the knee line to reduce the leg's length by 1" total.



To close the gap in between the adjustment lines, I first folded the bottom line and taped it to the top one, making sure that the grainline is matched up.



Then I taped it all down in place. See how the grainline is matched up, but it doesn't matter about the side seams (those can be corrected).



Using a clear ruler, I connected the lines on either side of the adjustment. Then I added 1/4" seam allowance around all the pieces since that it the width of my serger stitch.



There was only one draft it yourself piece in this pattern, for the back of the foot. For BurdaStyle digital patterns, the draft it yourself pieces have 5/8" seam allowances included, but I'm sewing with a 1/4" allowance so the piece needs to be adjusted. The way I do this is first draft the piece as per my size on the chart and then calculate the difference I need to make. In this cast it is 3/8", so I bring in each side 3/8".



Now it's time to get cutting! I first cut my waistband piece on the fold out of my silver jersey. Then I cut my front and back leggings pieces out from my Art Gallery printed jersey.



To finish the hem edges I used Coats Eloflex thread (that I also used in the sew-along) that stretches with the fabric.



The construction step was to flip up and finish the bottom edges of the back pieces. So I first pinned up my allowances.



Then from the right side I stitched my allowances in place with my Eloflex thread and a ball point sewing machine needle.



Finished edges. If you can't get this thread you can use a cover stitch machine, twin needle, stretch stitch, or zig zag stitch. Many options for sewing knits!



To complete the heel cutout for the feet, I finished one of the more narrow edges of drafted piece a.



On the front pieces, I cut into the side notches to mark the placement of the feet pieces.



Then I placed my foot pieces, right sides together on the bottom of my front pieces matching up the top finished edge with the clipped marking. I pinned in place and then basted down to secure.


Well that completes part 1 of my first 2018 Mash Up!

I'm also doing the Burda Challenge 2018 where in ADDITION to my Mash Ups, I want to make another pattern from the magazine every month. My first challenge project is another yoga wear pattern, and I want to sew our Cutout Back Shirt to wear with my leggings.
Happy Sewing!
Meg