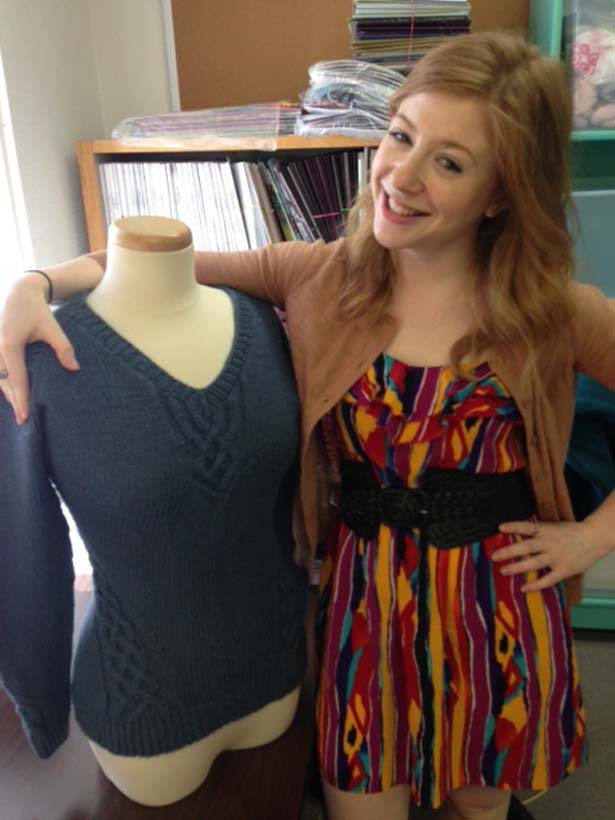 ShareThis
Hello my beautiful new friends!
I'm so excited to be writing this, my very first post for the BurdaStyle blog. I've just signed on as the Community Manager for the site, so I'll be spending lots more time here getting to know the community that makes BurdaStyle so great. I'm so impressed with everyone's style and passion, and I'm looking forward to being part of the community.
To formally introduce myself, I'm Mandie, and I'm coming to BurdaStyle by way of Interweave, the fiber arm of FWMedia. I started as an intern for their "yarn group," and jumped into my first full time gig as the assistant editor for two knitting magazines. Those of you that are ambi-craftual might recognize me from Interweave Knits and knit.wear. At Interweave, we work hard to blend ready-to-wear style with technical patterns you can sink your teeth into… something I know the ladies at BurdaStyle hold near and dear!
As for my skills and style, I'm a novice sewer but a veteran fashion hound. In knitting or sewing, I tend to like classics with a twist. Dior and Madewell are two of my favorites for timeless silhouettes. I do prefer my classics in not-so-traditional colors and patterns, so making clothes my own has always been a challenge. Pleats, sweatheart necklines, high-waisted pants (holy Katherine Hepburn, are the Pocket Trousers not just to die for?) all get me going.
If I have a crafty signature, it's putting my own Southern glam spin on tailored patterns. I love all things chambray and pink, and when it comes to cowboy boots, the higher the heel, the closer to god. One of my favorite things about this site is watching our patterns take a new life with someone else's style. You have to check out this week's webinar. I can't wait to see Meg's galaxy print version of the Alison Swimsuit! If you haven't experimented much with spandex, this might be the motivation you need!
I'll be posting more here on the BurdaStyle blog… the scoop on our webinars, styling our Burda patterns, giveaways, and more! The site is growing in so many ways, and I'm excited to be sending you all newsletters to keep you informed of everything that's going on.
I can't wait to get to know you all more, and jump into everything that BurdaStyle has cooking. Be sure to follow us on Pinterest, Facebook, and Twitter. You might even see some knits on there!
Happy sewing,
Mandie