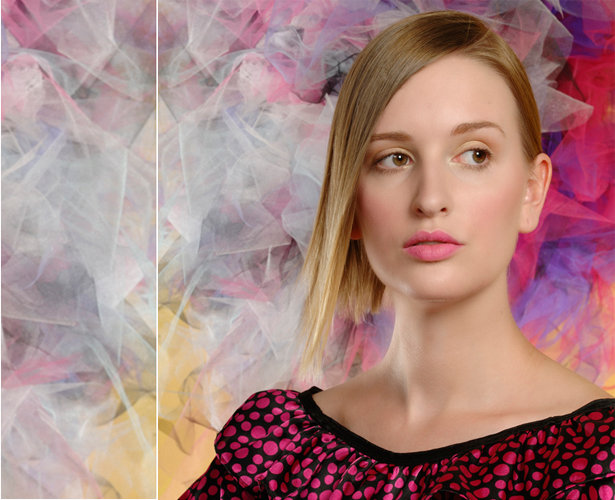 ShareThis
Shannon Kramp. was raised in Newfane, NY, a small town outside of Buffalo, NY. she lived in Austin, TX for 2 years where she had the privilege of participating in the BurdaStyle DIY Fashion Show during SXSW. Currently she lives and works in Buffalo, NY where she is working as a designer. Here is her story.
Tell us a little bit about your design history and process.
I learned to sew from my mother at the age of seven but I did not discover my love of fashion until much later. My parents always encouraged my creativity. I grew up sewing with my mom and building things with my dad. My mom is my number one fan and is always keeping me motivated and inspired. When I was away from home she would often mail packages filled with fabric and inspirational photos cut out of old NYLON and Vogue magazines. My designer gene kicked in when I was 20 after I received a copy of Megan Nicolay's book "Generation T" as a gift from my mom. That's when I began slashing and refashioning thrifted and vintage clothing. After receiving custom orders and the public inquiring about my clothing I decided to establish my own clothing label, Kramp Kouture, in 2008.
My main focus is womenswear but I also make an accessory for every collection. For my last collection I created spiked fishnet gloves – Eartha Kitt as Catwoman serving as muse. In my latest collection I created a chain harness, which was used for a tattoo magazine set. When I'm not creating collections or doing alterations, I like to make clothing for family members, especially my cousins. Last Halloween I made a Lots-O'-Huggin' Bear costume for my baby cousin.
I designed under several different business names before deciding on Kramp Kouture. I wanted a catchy business name that also integrated my surname. I currently sell my designs on Etsy.com and Krampkouture.com. Wearing a design in public and people inquiring where I purchased my clothing. It is a great conversation starter to tell people about my business.
How do you get inspired?
I find inspiration in many things. It can be a dream, paintings, a feeling, or my favorite designers' latest collection. Fabric can be inspirational as well. I created a dress from selvage scraps I took from my day job. The frayed edges created this feathery texture so I draped a dress and created a fringed waistband out of it.
My favorite fashion designers are Betsey Johnson and Rodarte. Betsey is the personification of her brand and is a reminder that fashion can be fun. Her over the top, embellished, and colorful designs are a huge inspiration to me. Rodarte on the other hand are inspiring for the impact they made in the industry since their inception in 2005. They are proof that you can make it in the industry without having a degree in design. I am also a fan of Alexander McQueen, Anastasia Chatzka, Anna Sui, Balmain, Christian Joy, Erin Fetherston, Hussein Chalayan, and Vivienne Westwood.
I am heavily inspired by my favorite musicians and Japanese street fashion. A few musicians' styles I admire are Sia, Yelle, Karen O, and Nicki Minaj. I can't get enough of Cosplay, Sweet Lolita, and Harajuku street fashion. The clothing brings me back to my DIY roots and is so whimsical, fun, and feminine.
What are your goals for the near future?
I would love to be able to sew full time and sell my designs online and to boutiques. I would be able to make my own hours and have more time to work on films, photo shoots, and other collaborations. Goals for the future are getting accepted in Mercedes-Benz of Buffalo Fashion Week 2013, get a feature in one of my favorite fashion magazines, and dress a celebrity.
I love New York! It would be a dream to attend design school and live there. I make a trip to NYC at least once a year to get my fashion fix. For now I enjoy living in Buffalo and working on my small business from home. Eventually I would like to own a boutique and sell my designs in stores worldwide.
What advice can you give to people who want to make and sell their own designs?
Practice, practice, practice! The more you practice, the more you learn through trial and error. It takes time to develop your own style and there is so much to learn about fashion and sewing. If you can't afford fashion school I recommend interning, apprenticing, or taking sewing lessons at a local business. Find a sewing book at your local library and start practicing. If you are a beginner try DIY books and online tutorials before working your way up to more advanced techniques.
Start out selling online on websites like Etsy or Big Cartel and expand to local boutiques or booths at craft fairs. Your best selling item could be the design you specialize in making.
Always remember that fashion is fun and sewing is creative power!
Check out Shannon Kramp's on the web: BurdaStyle studio, Kramp Kouture's Etsy shop, Kramp Kouture's website