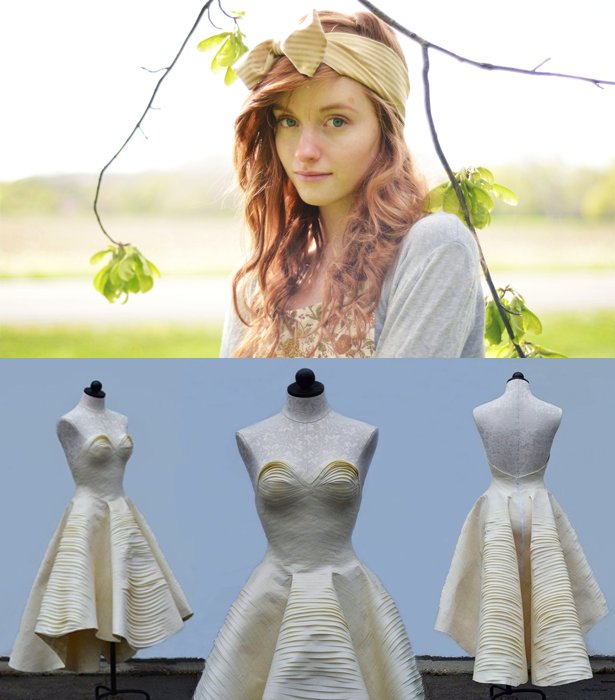 ShareThis
We are so excited to chat with designer, artist, and long-time BurdaStyle member Esther Boller (aka: Melonhead), who has recently won a National Gold Medal in the Scholastic Art and Writing Awards for her Masking Tape Dress – an amazing creation made entirely out of masking tape!
The Scholastic Art & Writing Awards identifies teenagers with exceptional artistic and literary talent. It has an impressive legacy dating back to 1923 and a noteworthy roster of past winners including Andy Warhol, Sylvia Plath, Truman Capote, Richard Avedon, Robert Redford, and Joyce Carol Oates.
First of all, congratulations on winning the award.
Thank you!
 
What gave you the idea for the dress?
About a month before I started working on the dress my mom and I took a train into downtown Chicago for a visit. I was blown away by all the beautiful architecture everywhere I looked. When I got home, I went online and researched different architectural buildings. I loved the way some architects played with circular movement in the creation of their buildings. I wanted to transfer that same style of circular motion into my dress. Another source of inspiration for the dress came from the chrysalis of a butterfly. I thought that all of the overlapping layers created a really beautiful effect, and I wanted to carry that idea into my design along with the idea of playing with circular motion.
 
How did you decide to use masking tape?  

Every year for Scholastics I try to come up with a new medium of material to work with, and right from the start I knew that I wanted to work with masking tape. I thought about using toilet paper, but it didn't really work for what I wanted to do with volume. I figured masking tape would work the best for creating the layers in the dress.

 
Tell us about the process. Did you start by making a sketch?

After I had the main idea, I drew a very rough sketch just to get my idea out on paper. Then I started thinking about the construction and how I was going to get the masking tape to work. For the skirt, I knew that I would need something strong enough to hold the shape and weight of all the masking tape, so I found this really stiff interfacing to use for it. After that, I drafted a pattern using my mannequin's measurements. I wanted the skirt to be very full. The bottom is just a very basic circle skirt made from interfacing. The actual fabric portion of the skirt is only about a foot and half long, and the rest is made from masking tape. One by one I added layers of making tape until I got to the length that I wanted. I had to do that twice in order to get the right stiffness. Now, because the inside of the dress was sticky, I had to go back through with 1-inch pieces of tissue paper and cover up the stickiness. After that, I added 2 more layers of masking tape, running vertically down the skirt, to add even more stiffness.
All throughout this process I would add pieces of wire to the inside of the dress, pushing the skirt outwards to get the correct shape that I wanted, and adding more volume. In order to get the texture that I wanted with the final top layer, I had to make sure that each band was exactly 2 pieces of masking tape. I found that 1 layer was too weak and three was too heavy. Once I had my two-layer bands cut out I started adding them to the dress one by one starting at the bottom and moving up. 

Esther's room filled with tape
Altogether the dress from start to finish took around 80 hours to make and I used over 17 rolls of masking tape. I had long strips of masking tape stuck to every part of my room imaginable! I think that I just now got every little piece of masking tape out of my carpet!  
Beyond being a work of art, the dress looks wearable?
Yes, the dress is completely wearable. It has a zipper sewn into the back so you can take it on and off. I finished the dress literally the night before the regional deadline, so I didn't have time to try it on. I was thinking of wearing it to prom, but those plans have changed. Hopefully one day I'll be able to try it on though. 
You must be thrilled at winning the Gold Medal and that the dress will be on display. But how on earth is it going to get to New York City?
Haha! The first words that came out of my mouth when I found out that it won were, "How in the world am I going to ship it there?!" The Fort Wayne Museum of Art has been really helpful. They came up with an idea of replacing the mannequin with a foam bodice and then running a pole through that bodice. The pole is then screwed to a wooden shipping crate.  That way the dress would be suspended in the crate and it wouldn't bounce around as much. Then they figured that as long as we stuffed the skirt full of newspaper or something it would help with keeping its shape during the transportation. But the dress was still sticky in-between each layer of masking tape running up the skirt and bodice. So last week I was at the museum brushing each individual layer of masking tape down with baby powder, hoping to lessen the stickiness. It got everywhere, but it worked really well!  As far as I know, all has worked out and it should arrive in New York in one piece… And smelling like baby powder. Haha. 
You joined BurdaStyle in 2008, and since that time we have seen many amazing projects from you. What has BurdaStyle and the community here meant in your development as a designer and artist?
Burdastyle has really meant a lot to me. Everyone in the community is so helpful and encouraging. I'm constantly inspired by all the amazing works of art that everyone makes and posts on the project pages! Burdastyle has been such a huge learning resource for me as well. From being inspired by the designer interviews on the blog, to checking out the learning section on sewing techniques! Burdastyle has helped give me the knowledge to grow and learn as a designer/seamstress. 


left: The Plastic Bag Dress, center: The Foil Dress, right: The Pennies Dress
Some of the creations you have made include the "Newspaper Prom Dress", the "Plastic Bag Dress", the "Foil Dress" and now the "Masking Tape Dress". What are the pros and cons in working with these non-textile materials?
What I love about working with non-textiles is that it's almost more like working with a sculpture than a regular textile dress. It's a lot of fun, but there are a lot more things to worry about. For instance, one normally doesn't have to worry about their dress melting (that was the end of the plastic bag dress) and/or crumpling together (the foil dress).
I tried making a dress out of pennies last year… As you can probably figure out, it was a complete disaster! I wanted to create an ombre effect with the difference in shades between old and new pennies. Although, when I got about half way through gluing the pennies to the dress, I realized that it was way too heavy (I couldn't even move it an inch off the ground).
Which material has been your favorite so far?
My favorite so far has actually been the masking tape dress. I went a different route than I normally do: I played with volume, which I had a lot of fun experimenting with. I'd like to start playing a lot more with volume and incorporating more of that into my designs. Right now I'm starting early on my Scholastic project. I'm working on an installation piece of a series of gowns made from nature. This past weekend I spent over 20 hours collecting flowers from a tree, taking the petals off, and placing them in the pages of dictionaries to dry. I dried over 5 trash bags full of flowers and I'm hoping to get a couple more trash bags full before the flowers die.
 
You are only 17 and already so talented. When did you start sewing?
I started sewing in the 7th grade.  My mom learned to sew when she was younger, so she taught me how to sew from a pattern. The first project that I ever made was the most hideous pair of yellow, plaid pants that one would ever see (I still wore them everywhere though).  But after I made them, there was something about sewing that I just clicked and I started sewing more and more. I would go to the library and basically check out their entire section on sewing. I read every book that I could on the subject. I watched a ton of YouTube tutorials on sewing (that's where I found a link to BurdaStyle). Pretty soon I was sewing something new every day. After a while I was absolutely in love with it and I knew that I wanted to pursue it as a career.

 
Where do you get your inspiration?
I'm inspired by anything and everything, but some of my biggest sources for inspirations are movies and books. I'll fall in love with a certain character and I'll think about what they would wear next. Sometimes I'll think about what they would wear if they were living in a different place or era in time. Some of my favorite characters to think up designs for at the moment are Chuck from Pushing Daises and Violet from A Series of Unfortunate Events by Lemony Snicket (which were my favorite books when I was younger). 
 
What is next for you? Do you see yourself pursuing a career in fashion design?
Well, I have one more year of high school left, but after that I hope to be accepted into a design school. There's so much more that I want to learn when it comes to sewing. I want to earn my degree in fashion design and also get a minor in business. I hope to one day start up my own line of women's clothing and keep doing what I love for the rest of my life, which is designing and making clothes.  
  
Check out Esther's Masking Tape Dress here. You can also view a slideshow of more designs by Esther.