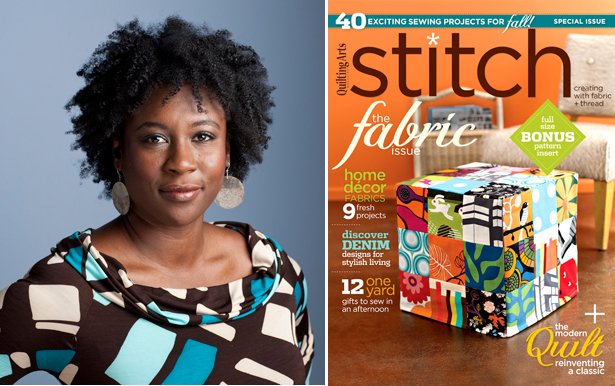 ShareThis
Bringing a decidedly stylish and modern edge to traditional sewing and craft, Stitch Magazine has carved a niche for itself as one of the premier biannual publications for contemporary sewing. Full of projects, resources, tips and ideas, Stitch is a great guide for any sewer, no matter whether they've been at it for years or are just starting out. We sat down with Stitch Editor-in-Chief Tricia Waddell to get the scoop on her favorite crafts, inspirations and what's next for the future of Stitch.
Tell us a little bit about yourself, your professional background, jobs, etc.
I've been in how-to publishing for a long time, first as an editor then editorial director on the book
publishing side, then more recently with magazines, covering all types of craft and design categories
including general crafts, woodworking, graphic design, writing, jewelry making, knitting/crochet, and of
course sewing.
You are an omni-crafter – tell us about the other crafts you enjoy – do you blend them?
I love to make stuff period, so I do all sorts of crafts. I enjoy knitting, jewelry-making, mixed-media
artwork, hand embroidery, and most recently I have been learning to weave. I definitely combine crafts,
especially the fiber-related crafts. I love adding custom handcrafted touches like embroidery or beading
to my sewing projects. And I want to add more fiber techniques into my mixed-media work.
What and/or who are your sources of inspiration?
I am a magazine junkie, especially for international fashion, home, and design magazines, so I get a lot
of inspiration there and keep a library of tear sheets in binders that I can refer to for ideas. I also collect
Japanese sewing books and splurge on fiber art books. When it comes to people, I'm inspired by too
many people to list!
Tell us about Stitch Magazine – what is the ethos behind the magazine?
Stitch is about taking a contemporary design eye to your sewing and using patterns as a jumping off
point for experimentation. We introduce readers to interesting trends and textile creatives—from fashion
designers to sewing bloggers to fabric designers—to show the variety of creative approaches to sewing.
And of course we give you technique how-tos and lots of original projects by amazing indie designers that
showcase current design trends for clothing and accessories, kids' stuff, home décor, and gifts.
Can you take us behind the scenes on a typical day? For example, Stitch has such
remarkable photos – how do you approach a photo shoot?
A typical day can include anything from researching new designers to profile in upcoming issues to
reviewing project submissions and deliberating fabrics and design details to get the right mix. The fun
(and exhausting!) part comes at the photoshoot where the vision for each issue really comes to life. We
have an amazing creative team for design, photography, and photostyling, and we sit down and concept
ideas for each project story, from the props to the wardrobe to the wall colors (we shoot everything in a
large photo studio). I pick the models that would be good fit for the mood of the issue and the clothing and
accessory projects to be featured. Then we go into the photo studio for three intense days of shooting. It's
controlled chaos sometimes. Sometimes we have kid models running around, last issue we had a dog for
a couple of shots, and we are constantly changing and creating sets—if we think we can pull it off, we try
it!
Stitch is only in its second year and is already moving from a bi-annual publication to a
quarterly – that is very exciting – what are your hopes and dreams for the future of Stitch?
We have some fabulous expansion plans for Stitch with the exciting change to going quarterly! We have
launched the Stitchblog to stay in touch with our readers between issues and ramble on about sewing
stuff we think is cool. We will be creating sewing technique videos, offering sewing project planning and
organizational tools as free web downloads, and there is a Stitch book on the horizon, plus much more!
We all get 'stuck' sometimes when we are trying to create – what do you do when that happens?
I try to step away, clear my head, and start over with a clean slate. You can't force it. Sometimes you just
need to take a walk, or go look at something inspiring that is unrelated like an art show, and let inspiration
come to you through another avenue. Then you open yourself up to having one of those "I never thought
of doing it like that" moments.
Do you have a sewing tip that you can share with our members?
My number one tip is, don't be afraid to make anything you want to make. Too often I hear people say
that they can't make something because it looks too hard. Just take your time and try it! It's only fabric
after all, and even if it doesn't turn out exactly the way you hoped, you will have learned new techniques
along the way for your next project. And you may surprise yourself and make something fabulous!
Do you think more people are creating their own clothing and accessories today? Is there a
resurgence of sewers?
I definitely do. I love that sewing has become totally cool, thanks to the explosion of fantastic sewing
related websites (like this one!) and blogs, shows like Project Runway, and the popularity of boutique
fashion and home décor lines by independent designers. Sewing is an amazing creative outlet. I can't
imagine a better way to express yourself than by wearing a look you made from head to toe.
And don't forget to check out the beautiful Silk & Pearls Clutch Tutorial courtesy of Stitch Magazine. Available for download here!