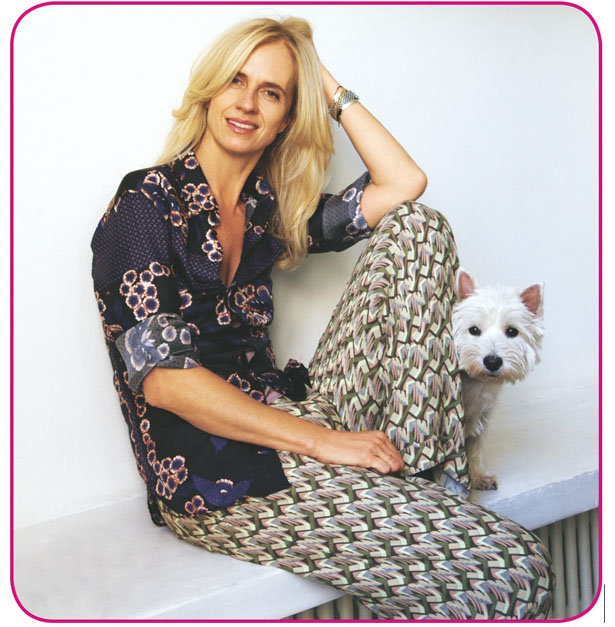 ShareThis
We chat with Dagmar Bily, editor-in-chief of burda style magazine and ask her about her work with the magazine, the patterns and where she gets her inspiration.
- First, tell us a bit about yourself and what you do at burda style magazine.
I started working at burda style 4 years ago. Back then burda style was still located in Offenburg at the river Rhine, where it was founded by Aenne Burda in 1949. As you can see it has a very long history. I am editor-in-chief of the magazine and chief designer. That means that I am responsible for the whole process: From the first sketches to the moment when the magazine is delivered to the DIY-community. I think it is the best job ever. It is a job where you have to put your whole heart and soul and love and creativity into it – that's how I love to work, actually.
My work consists of many patches: there are the fabric-fairs and the fashion shows where I am looking for trends and where I fine-tune my ideas. Back in Munich we collect our ideas and create the main topics for the following season.  At this very moment I am already planning and sketching my ideas for spring/summer 2013. Each issue of burda style consists of 4 main topics plus a plus size-topic and one for kids. So that means 24 collections for all kind of tastes and all kind of needs for sizes 34 – 42 and 6 collections for plus size women in one season. Thats 300 pieces in 6 months!
When I am designing I am also choosing the fabrics in Offenburg where we still have our manufacturing. There they sew a prototype of each piece. We follow through the whole production process as if we were a "normal label", with fittings etc. I actually  think, burda is a label….
After the collection is sent to Munich our editors follow the process, a normal fashion magazine does. With styling, photo shoots, production of a magazine. This is another central and time consuming part of my work, as I also see myself as head of design when it comes to my visions of a magazine for this very specific, quality seeking, detail loving, life embracing DIY-community.
-What has been your favorite photo shoot thus far?
There I have to talk about the most beautiful moments rather then a particular photo shoot: When something develops between the model and the photographer, when there is this certain chemisty. That is great. Then there is a story unfolding between them and the model feels great in her outfits and looks happy.

Top: Dagmar always works closely with the models to make them feel good in the clothes. Bottom: On location in South Africa. Sometimes the days can get long on a photo shoot…
- What did you do before coming on board to burda style magazine? Had you worked as a designer before?
Before burda style I went through the whole career of a fashion editor. You can say I learned it from scratch. I started sewing when I was a teenager – a lady's suit was my first major project . I studied fashion design at a design school and then I dove into the fashion magazine world. Starting out as an assistant, an editor with countless of photo shoots and several years as fashion director for this particular magazine. When I became editor in chief of burda style I was able to combine all my passions and experiences…
- What are you favorite fabrics to sew with?
I love to work with cotton and with leather. Generally speaking I love to touch fabrics and once they feel good in my fingers, I want to work with them. Similar important are colours and prints. They make me happy and they inspire me – especially when there is a story behind a print or fabric. I love to collect fabrics!!!!!!!!!!!!!
- We would love to know more about the work process of the magazine, tell us a bit about that! Where do you look for design inspiration? How far in advance do you plan an issue?
Right now I am physically working on issue 01/2013 which will be published mid of December. But I am already planning the topics and themes for spring/summer 2013…
I find my ideas at the fabric fairs and the fashion shows. When you feel a fabric you get an inspiration. Also walking through the streets is very inspiring. I always keep my eyes wide open when I am traveling – street styles are always a great source of inspiration.
And of course my backyard. I have a beautiful garden. Nature obviously is a great source of inspiration and in combination with and in contrast to the city it brings out new ideas.

A view of Dagmar's garden, a print project she was working on and some pottery made by her friend
- Who is your target demographic for readership with burda style magazine?
Burda style is a very special magazine cause it targets such a wide community. And I have the feeling we manage pretty well. We reach young DIY-folks with our easy to follow tutorials and our easy to sew patterns. We also reach the semi-professional audience with more challenging patterns. We are offering patterns to the young, the old, the small, the petit, the tall and the bigger women. But you are right, 4 years ago we started to draw the focus more and more to an audience that had been a bit neglected over the last couple of years: the young DIY community.
- If you could estimate, how much of your wardrobe is made up of garments made from burda style magazine patterns?
Yeah sure I wear burda style. I have clothes for all occasions, I couldn't exist without these clothes anymore. But of course I mix them with my normal clothes.

Dagmar with photographer and friend Adriano Brusaferri at a location shoot in South Africa.
- What is the best thing about the job?
The best thing is that I can follow through the collection from the beginning till the end. It is a growing, a process. It is beautiful to see how an idea combined with a fabric becomes a wonderful dress – and how beautiful it ends up on a photo in the magazine. Bliss!!!!