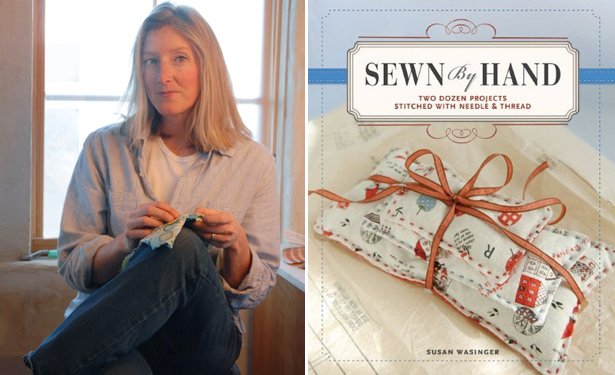 ShareThis
If you're a foodie, you know all about the slow food movement; taking care to know not only where your food is coming from, but how it is prepared – to be more in touch with what you're eating and the process involved. This mindset has taken hold in the world of sewing and craft as well and spawned a new generation of creators who are not only more conscientious about their consumption but are also more aware of how their creations impact the world around them.
Slow craft itself is the respect for traditional techniques and craftmanship and keeping these time honored traditions alive. It is also a movement to put thought back into what we're making, to take our time and make it special – not churn out a project just for the sake of making something. Susan Wasinger is an artist who has taken the ideas of slow craft and upcyling and created a name for herself as a sort of authority on crafting beautiful, eye-catching projects using repurposed materials. Susan has written a number of books including her latest, Sewn by Hand, which applies these ideals to a range of easy, fun and adorable projects you can make with a few pieces of fabric and a needle and thread.
Susan took some time out of her busy schedule to answer a few questions and give us some insight into her creative process.
Tell us about your background and how you started sewing and crafting.
My Swiss grandmother started me sewing when I was 4 years old. I started off with a useful project, a pair of elastic waist pants. I loved that it was something I could actually wear! I'm sure if it had been a sachet or a potholder for my first project, I would never have become so enamored. I come from a long line of folks who are good with their hands. Even my father knew how to sew! He made me a little blue plaid dress when I was around 5 years old. I wore that it in my kindergarten and first grade school portraits, so I have photographic evidence of his craftiness and his love. My mother was also a good seamstress; she took on large-scale projects like curtains and valences. My grandmother could sew anything: she could tailor a blazer, make a bias cut gown or slipcover a chair. We were never afraid of hand-work…or hard work for that matter.

Projects and materials in Susan's workspace
Speaking of your grandmother – your bio says that she was a couture-trained seamstress. Is there any advice or tips she gave you that you rely on today?
Well, she just taught me the right way to do everything. However, whether I did it the "right way" or not was decided on a case-by-case basis. I was an American kid after all, and sometimes speed trumped quality. However, doing things well was often part of the fun. She taught me to know quality materials, rhapsodized silks and linens and wools to me. Taught me about drape and hand, and was the one with whom I shared my giddiness over beautiful fabrics. One of the most important things she taught me was to be willing to thread a needle and tie a knot. Sometimes, in our rush to finish something, we will try to cut corners and save time by threading a long thread so you don't have to tie off and re-thread too often. My Nan had an old Swiss German saying that translated as "long thread, lazy girl". My grandmother taught me that those long threads inevitable got tangled and wasted time, so it was a sort of false economy. That has been especially useful in my book Sewn by Hand. I rediscovered the power of threading the needle and tying the knot. As long as you are willing to do that, and not see it as a big pain, then you can sew just about anything your imagination can dream up.

Susan's 1950's Singer Rocketter machine
You're known for reusing what many people would consider trash and turning it into beautiful products – tell us a bit about what your creative process is like? How do you approach taking these discarded items and making them something new?
I have a slightly twisted love of showing people something I have made and getting to say, "yeah, that was made out of truck tire inner tubes or plastic six-pac holders!" I especially like it when they wouldn't otherwise have recognized those humble origins because of the general beauty or utility of the actual finished piece. In Sewn by Hand, I made little felted wool evening bags that were accessorized with roses made from old metal zippers. Sounds weird, but, with the right twists, it turns into the most delectable and elegant little bag. I also "borrowed the seams" of men's button-down shirts from the Goodwill store. I dismantled the shirts, turned pieces on their side, cut off plackets, re-used pockets, and generally re-engineered things to make a very smart little apron that has some very fine tailoring repurposed from the original shirt. That is the kind of quirky stuff that is most inspiring to me, and also the most fun.
You live outside Boulder, Colorado. How does your environment influence your work? Does the space and landscape allow you to be more creative?
I love where I live, even on those harsh days when the wind is howling 70 miles an hour and the snow has drifted half way up my doors and windows. I feel blessed to look out my studio windows and see nothing but mountain and meadow and trees and sky in all directions. So where I live grants me gratitude and humility and an abundance of natural light for working and photographing. I suppose my environment teaches me something about nature's creativity—how relentless and transformative. How things are constantly being invented and destroyed and then something else tried. That is good for me, since we need to be ceaselessly and tenaciously creative in our lives and in our craft. Not everything works out the first time, its okay to try and to fail; the important thing is to try, try again. Mother Nature is always and forever at work on a new project.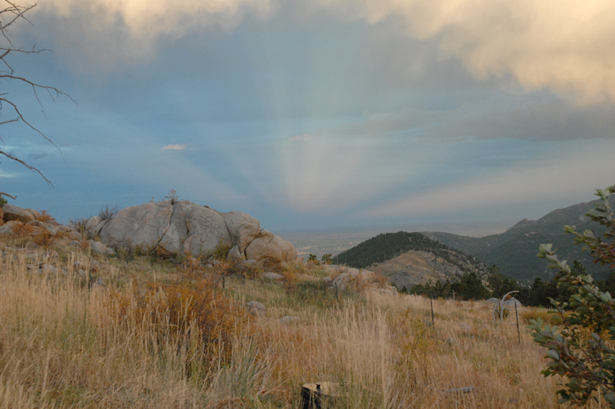 The view from Susan's studio

Susan's studio
What have been your favorite or most rewarding projects to work on?
I do so love the recycling of things. Using and transforming something that is past its sell-by date and turning it into something fresh and modern…and useful! Love to be useful! Also love to find the contents of someone's old sewing basket and put some of those forgotten things to work again. Ebay is so fun for that. I often buy "lots" of things that amount to the contents of some old aunty or grandmother's sewing kit. It is like archeology. Tools and tidbit, notions of projects started decades ago. Rickrack in outlandish colors, bits of old lace, bake-lite buttons sometimes with the price tag still on. Fun to see that a whole card of buttons once cost 10 cents. I like to add these bits and pieces to projects I'm working on now; it's like a little wink at Father Time. It's a nod to the constancy of change, especially the wonderful way things disappear, and go into hiding, but then suddenly reappear and are all the rage. This would be a fun book to work on, projects that are made from all old stuff, scraps of old fabrics, and odd constellations of vintage notions and trims. Sort of sewing as time machine… And the bonus is, it's 100% recycled!

Personalized paper lanterns, one of Susan's projects
How did the idea for your new book Sewn by Hand come about?
Well, I think I grew tired of finding myself sequestered in my studio, hunched over my sewing machine, all alone. I wanted to be able to hang out with my family and still work on projects. I found myself lingering over hems, and basting, and any of those things that just required a needle and thread, things I could work on anywhere I chose. The original idea was sort of edgy and radical was called "sewing unplugged." But after I had done a few projects, and had truly finally really "unplugged," the projects started becoming softer and sweeter and just the opposite of edgy. I discovered the wonderful quiet of hand sewing. I was so used to the hum and whine of my sewing machine, that I didn't realize how lovely and full of grace it is to sit quietly and purposefully let your hands work on something pretty. It was a discovery I just had to share with others.

The thread caddy and apron projects from Sewn by Hand
You said that creating a book of projects sewn by hand was sort of a retaliation against our machine-dominated world of computers and keyboards and programmable sewing machines. Do you think craft has suffered from the advent of these technologies? Why do you think it's important that we continue to keep these hand-stitching traditions relevant?
Well it's true that these days our eyes and our brains can run far ahead of our hands. We can look at thousands of things online. And find things from all over the planet. We can see how things are done. But until we actually put our hands on something, and let them get to work, we really don't know what anything can truly be. Our hands have knowledge, and skill, and even aesthetic sensibility that our brains just plain don't know about. Our brains want to intellectualize the making of things, and imagine that everything can be planned and then made just so. Computers are the perfect tool for the brain; they too serve that idea that things work out in certain set ways. Our hands are the tinkerers. Their tools are the needle and thread and scissors. They don't mind meandering toward a sense of completion. The brain, and the computers would prefer to draw a straight line between point A and B. Again, I just can't say enough about the wisdom of hands. Wisdom that is unknown and inaccessible until fingers touch fabric and take up thread. But more than anything, there is a sense of well-being in hands that are engaged. The nice thing about hand-stitching is that it is so human scaled. It proceeds at a comfortable pace, and allows our minds to wander into the land of contented musing. Tapping on a keyboard doesn't that often feed the soul. And all that texting we do? Well, that is just making us all thumbs…
What are a few of your favorite hand-stitching techniques and why?
I love any stitches that show. Simple as that. Doesn't matter to me whether it is a whip stitch, or an over-cast stitch, or a simple running stitch. I want to see them, and see their reassuringly-human imperfections. Adore that. Many projects in Sewn by Hand use fat thread, or thread in wildly contrasting color, just so you are sure to see every last stitch. Our ancestors use to ascribe all kinds of magical, protective qualities to those stitches. So I guess I should say that, my favorite hand-stitching technique is to stitch with intention. To imagine that each tiny dip of thread into fabric imbues the project with love and power and magic and grace.
People have been talking a lot about the "slow craft" movement, upcycling and being more conscientious about their consumption, why do you think these things have become so important to a younger generation of crafters?
Well, we've done the conspicuous consumption route and found it to be pretty empty and depressing and messy, too—-for our lives and for our environment. People are paying closer attention to the essentials these days. There was a time when crafting, sewing, knitting, etc. were purely economical concerns. Things could be made cheaper than they could be purchased. So crafters many years ago tried to make things look "store bought," and "hand-made" was synonymous with "second-rate." Thank goodness this new generation doesn't labor under that same thinking. In our machine-made, sweat-shopped, mass-produced consumer society, smart, creative, crafty people have come to honor and value those things painstakingly crafted by hand. They want their crafts to wear their hand-made status with pride. They are not afraid to let their stitches show. They expect their crafts to have soul.
What's your favorite part about the crafting process? Is it dreaming up the idea or seeing the finished project? Or maybe the journey in between?
Uh oh, gonna have to say "all of the above." Love dreaming something up: this is high giddy energy for me. Love seeing the finished project and falling in love with it. Love the journey in between, the lovely calm of heart and mind that happens when your hands are happily engaged, and feeling powerful and useful. It's all good….very, very good.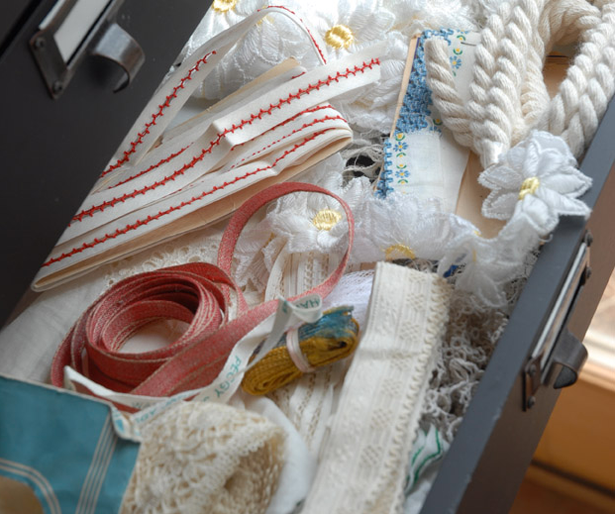 A stash of Susan's notions and trim
Every crafter encounters a sort of writer's block – or crafting block, if you will – how do you continue to get inspired and work through those blocks?
For me this is when my head gets in the way of my hands. If I have spent too long imagining or envisioning something and have gotten all invested in it turning out some specific way. Sometimes, that rigid idea makes me hesitant to put my fingers to fabric, as though the reality will break the spell I have woven in my head. It is almost an apprehension. I find that making the first cut with the scissors can sometimes break that impasse, as can taking that first stitch. Especially if you hold those first stitches lightly, and imagine you can take them out if you don't like where they are going. Starting off with a sense of play and adventure seems to get around those blocks. Get your hands involved early, even before your head has a chance to decide exactly what it wants. That seems to help release the tension that gets in the way of us diving in and swimming in a sea of creative juices.
Thanks to Susan for giving us a peek into her creative world! And thanks to Lark Crafts for offering up one of Susan's great hand-stitched projects just for our readers! Grab the instructions to make your own Sewn by Hand thread caddy here. The folks at Lark Crafts have also been kind enough to share their range of fantastic craft books at 50% off! Click through to get your coupon code and stock up on loads of great titles from their talented authors.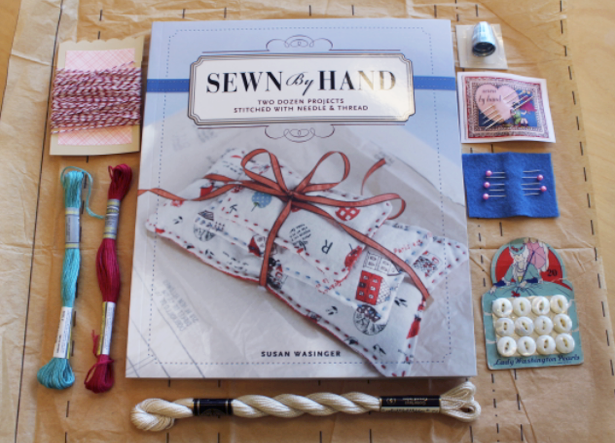 And as if that wasn't enough, we're also giving away a sewing kit and copies of Susan's new book to a few of our lucky BurdaStyle members! Simply tell us why you think it's important to keep hand-stitching traditions alive in the comments below and you could win. Comments must be left by 9:30am on Monday, May 9th to be eligible.