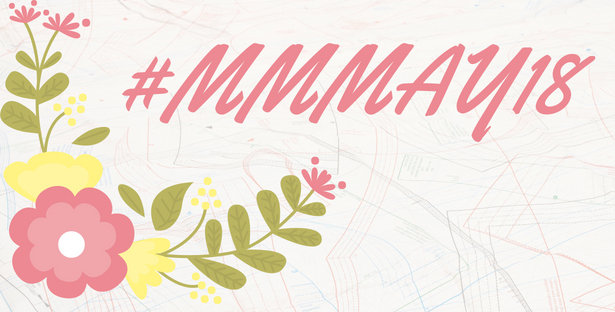 ShareThis
It's half way through Me Made Month – or better known as Me Made May! I love scrolling through all the #MMMay18 posts to see what everyone is wearing and sewing. I made a pledge of my own which I'm sticking to and you can read below, as well as some of our favorite posted BurdaStyle Me Made's on Instagram.

Above is my pledge that I reposted on Instagram after making it official on Zoe's official Me Made May page here on So, Zo…
I have been pretty good about wearing me made several times a week – and as far as sewing the new workout wear goes, instead of making one piece a week, I sewed up a storm all at once and my workout outfit is pretty much done!



For the base outfit I used our Cycling Shorts pattern and Crop Top Sports Bra. I sewed both up in a mixture of black lycra, mesh, and stretch pleather – and if I must say so myself, they turned out fabulous (see below)!
Laura from Trash to Couture I know is also working on sewing up the bra pattern and by the looks of her #mmmay18 athletic look below, I know it's going to be awesome.

Here are some pictures I snapped while creating these two patterns and an overview of the pattern modifications I made…
Shorts:
+ Drafted a curved panel along the hem to incorporate the mesh
+ Omitted the binding placement lines, and instead made them style lines to panel the black lycra and leather together
+ Elasticated the waistline instead of facing
Bra:
+ Omitted zipper
+ Finished all top edges including necklines with binding that I turned into straps
+ Elasticated bottom



Then after I created these two pieces, I immediately printed out this yoga T-shirt pattern to wear over top and voilà my workout outfit! I cut out the back piece of the shirt in mesh so you can see the crisscross straps through. Super excited to photograph this look and share with you guys – sewing your own active wear is so efficient. I made ALL THREE of these in an afternoon, and I only used little bits and pieces of fabrics and elastics I had laying around from other projects.
For the other portion of my Me Made May pledge, here are some of my favorite looks that I have worn in May on the rare occasions that I leave my sewing studio…



Top left I'm wearing my Burn Out Velvet Blouse that I made for my November 2017 Mash Up, and then on the bottom left i'm rocking our BurdaStyle X Sprout Wrap Blouse! My right look is a jacket that I made 4 years ago. I used raw silk and lots of hardware to create this Silk Moto Jacket.
Now enough about me and let's get to the wonderful BurdaStyle pattern you guys have been wearing and posting for #MMMay18!



Wearing our Pleated Peplum Blouse.



Made and wore these Wide Leg Pants!



Use two patterns to make this jumpsuit – and neither pattern was meant to be sewn in sweatshirting!



Looking stunning in a sleeveless version of our Retro Dress.



Rocking our Drawstring Romper!


Sewed up and wore the largest size of this adorable Teen Girl's Dress Pattern.
So many fabulous BurdaStyle makes! Make sure to tag @burda_style on all your #MMMay18 posts where you are wearing your Burda for the day.
Happy Sewing!