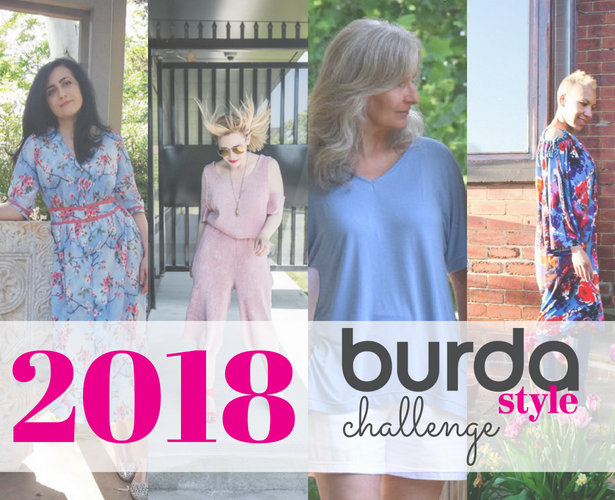 ShareThis
We can't believe it is June already – another #burdachallenge2018 has come to a close, and boy were our members busy sewing in May! In this post we have rounded up our member makes and also what I sewed up last month. I also plan out what I sewing next month using my Burda Challenge Planner for June…
Also be sure to check out Hila's Apr/May round up on her blog Saturday Night Stitch! I also love this skirt she posted on Instagram for Me Made May where she is wearing her March challenge skirt :

Our members on BurdaStyle.com have also been sewing up a storm for their May #burdachallenge2018! Lot's of florals and blue this month – yay Spring.



To the left Burda challenger SeamRacer made this 20's Style Wrap Dress which slightly adapted version of the BurdaStyle Wrap Dress from the April 2015 issue.
Ellen Hatteland on the right sewed up this lovely Tie Front Sheath Dress from the 05/2018 Dresses Collection in bright pink and blue.



lisascarolina's made the Yoga Top on the left using rayon jersey knit – and as any sewist would do, if you run out of fabric make due and cut a section in a contrasting fabric!
On the right we have member Maria Hayek (and self proclaimed jumpsuit skeptic) in her Summer Jumpsuit! For the waistband she used a ribbon and the fabric print has feathers all over it. Way to go on your third jumpsuit make!



Elpida Kyriakou's Burda challenge game is so strong and I love these two makes! On the left we have her First Shirt Dress with beautiful appliqué embellishments are made of imitation leather scraps. Then on the left we have her Almond Blossom Dress sewn in pretty blue floral, and although she isn't as thrilled with the result as I am, as sewers here we can also adapt our projects into new garments.



On the left Evmorales sewed up this Mini Off the Shoulder Dress in fun floral! I know this dress is on my to-make list, and this version makes me want to jump it to the top of the list.
Hila on the right also embraced floral in this unplanned One Shoulder Dress from the 07/2017 issue. We both love this dress and how dramatic it is!
Here are some more #burdachallenge2018 looks I loved and spotted on Instagram:

Keep up all the great sewing and posting BurdaStylers! Next month we are half way through the challenge year, wow how time flies when you are having fun sewing.



Projects: Pleated Velvet Jammies; Off-The-Shoulder Floral Top; Fuchsia Jumpsuit

Now for what I've been up to! It seems as though pink was my color this May, I usually avoid pink, but lately I have just been do drawn to it.
I'm happy to have made all the patterns I planned on in the Burda Challenge April Round Up / May Plans post including my wide pants, Mash Up Jumpsuit, and shoulder top (which I'm obsessed with). In addition to these I also whipped up some other makes like an ENTIRE workout outfit which I planned to make for my Me Made May pledge. Photos to come soon!



This planned top using our Off-The-Shoulder Blouse pattern is a really fabulous top, and I love the fabric I went with. All you need is a modern silhouette to transform an otherwise "granny" fabric! See more pictures here of my blouse.



This look is brought to you by our Drawstring Wide Leg Pants and Lace Top pattern that I whipped up last minute right after I finished making these pants since I seem to can't get over matchy-matchy looks, haha. Read more about this look here!



Now for my favorite part… Sewing plans! Our June 2018 lookbook just launched last week, so you're able to shop and sew every pattern from the issue. It was a lot of fun flipping through the new magazine to decide what to make and OF COURSE I just had to plan to sew the bodysuit pattern – I mean rarely does Burda release a bodysuit, so I'm very excited and it will also be my Mash Up.
Then for my extra project I plan on sewing up these shorts using leftover denim I have and this vintage trim that I just purchased a roll of. Super eager to get these made so I can wear them.



I just love using the planner to help me organize my fabrics and thoughts. For these, since my denim is quite thick I decided to omit the pockets and then replace the rick-rack trim on the pattern with maybe just one row of this AMAZING bright retro trim I have. Should I do one or two rows of the trim at the hem of my shorts?
Well here is to another fun month of sewing for the #burdachallenge2018, and don't forget to upload your projects using the hashtag so I can find and feature your projects.
Happy Sewing!